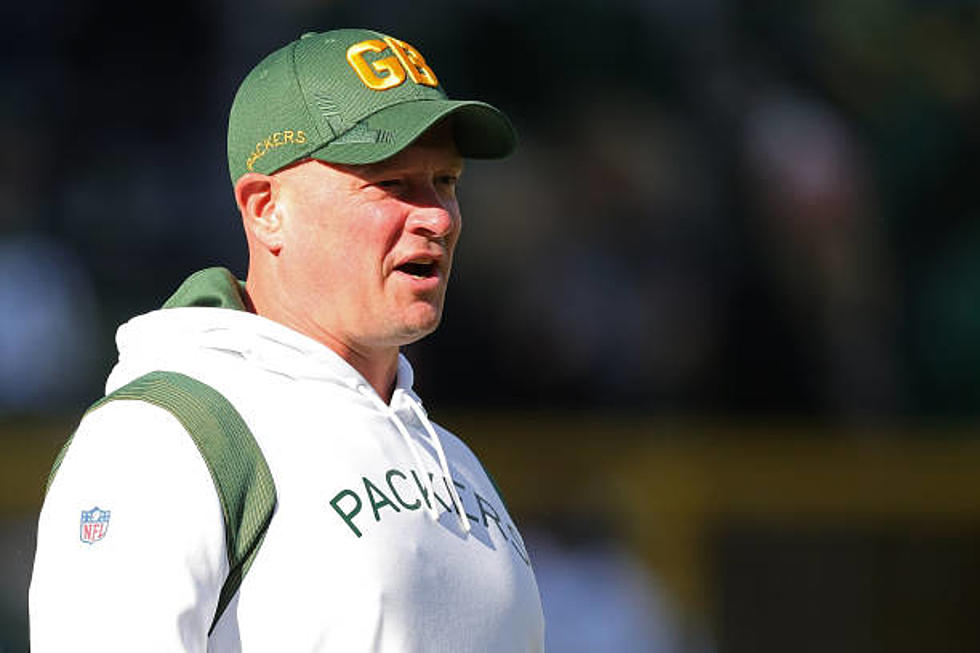 BREAKING: The Denver Broncos Have Chosen Their New Head Coach
Getty Images
The Denver Broncos have just selected their new head coach.
Early Thursday morning (Jan. 27), NFL Network's Tom Pelissero broke the news that the Broncos are finalizing a deal with Nathaniel Hackett to make him their new head coach, as per multiple inside sources.
The now-former Green Bay Packers offensive coordinator was a top prospect in the running to become the next head coach for the Broncos - as per reports via the NFL, the ball really got rolling Wednesday night (Jan. 26), as word got out that Hackett was scheduled to be in talks with the Jacksonville Jaguars, in regards to their open coaching job.
Fortunately, Denver shut that down real quick. 
About New Denver Broncos Head Coach, Nathaniel Hackett
The 42-year-old has spent the last three NFL seasons as the Green Bay Packers offensive coordinator.
Since Hackett took on the OC role back in 2019, the Packers have the second-most offensive TDs (160) and the fewest giveaways (37) in the league, according to the NFL. 
Hackett, a former linebacker at UC Davis began his coaching career as a college assistant prior to making the jump to the NFL; in 2006, he was hired as an offensive quality control coach with the Tampa Bay Buccaneers under Jon Gruden. 
He then retracted and moved back down to the college level, landed at Syracuse, and became the Orangemen's passing game coordinator and offensive coordinator.
After that stint, hungry Hackett followed Doug Marrone to the Buffalo Bills and became their Offensive Coordinator.
Hackett spent two seasons with the Bills as OC, then traveled to Jacksonville with Marrone and first became QBs coach during the 2015-2016 season. After Marrone was promoted to head coach (2016-2018 - following the firing of Gus Bradley), Hackett landed the coordinator job with the Jacksonville Jaguars.
Hackett might've not been the one to call the shots in Green Bay, but to many, he is highly regarded as " innovative, energetic, and can relate to players", which will most definitely do him a lot of good as he transitions into this head coach role.
Around the NFL writer Kevin Patra says Hackett has been endorsed by Rodgers multiple times for head coaching jobs - now the question is, could Aaron Rodgers make the move to Denver?
RELATED: Is Aaron Rodgers Coming To Denver? Do We Even Want Him?
Whether Broncos fans want to see Rodgers here or not, the idea isn't entirely far-fetched - especially after this head coach move.
Once finalized, Nathaniel Hackett will officially serve as the 18th head coach in club history.
Worst Trades in Colorado Sports History
Denver Broncos Forgotten Players