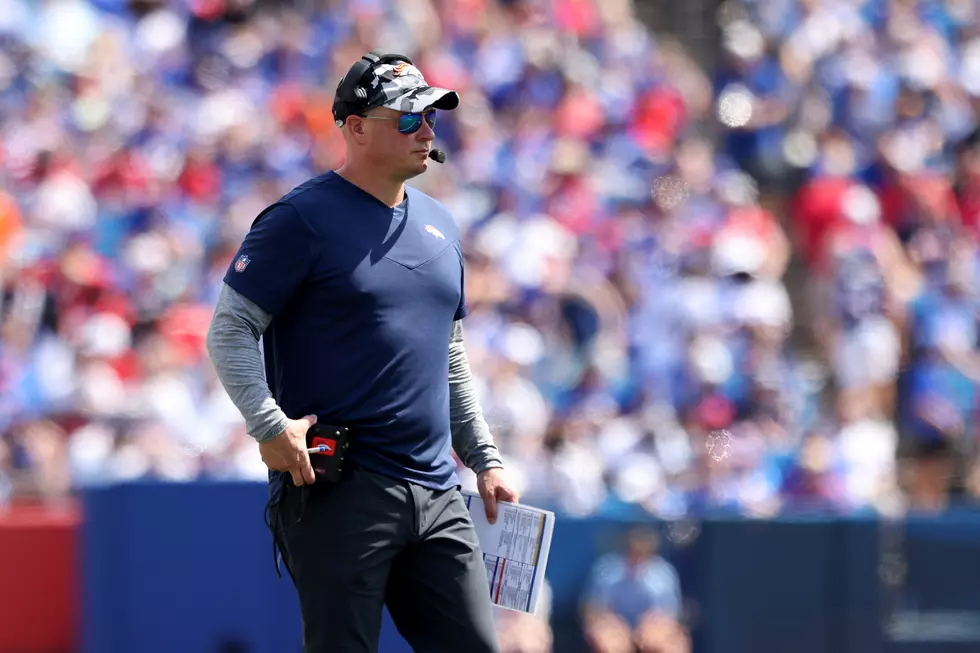 Touchdown? Nathaniel Hackett Makes Top 10 List of Sexiest NFL Coaches
Getty Images
Fresh off of Chris Evans becoming People's Sexiest Man Alive, Denver Broncos Head Coach Nathaniel Hackett has earned a similar honor.
Earlier this year, Gambling.com used the Golden Ratio Face app — which supposedly determines someone's hotness using the Golden Ratio mathematical equation — to find the most handsome quarterbacks in the NFL.
The Denver Broncos' Russell Wilson came in sixth place. Now, it's Nathaniel Hackett's turn.
The website applied the same method to the NFL's head coaches and discovered that Hackett is the ninth most attractive coach, with an overall beauty score of 8.33 out of 10.
You may not like his style, but you can't deny his good looks — at least, that's what the "science" says. If Hackett isn't your cup of tea, you might agree with Gambling.com's other picks.
According to the website, the Arizona Cardinals' Kliff Kingsbury is the sexiest head coach, followed by the New York Giants' Brian Daboll, and the Houston Texans' Lovie Smith. 
Surprisingly (or unsurprisingly, we're not judging), the website ranked Kansas City Chiefs Head Coach Andy Reid as the fourth hottest head coach.
As for the Minnesota Vikings' Kevin O'Connell and the Washington Commanders' Ron Rivera, Gambling.com said they have "faces for radio." Oof.
Want to create your own ranking? You might be able to. Check out all of the Denver Broncos head coaches in the gallery below.
How Do Past Denver Broncos Coaches Rank? See the Team's 17 Previous Head Coaches
Nathaniel Hackett became the Head Coach of the Denver Broncos in January of 2022. Who else has coached the team?
Scroll Through a Pictorial History of the Denver Broncos
The Denver Broncos have one of the most successful franchises in the NFL. Eight Super Bowl appearances, 15 division titles, 21 playoff appearances, and three championships. But, as every fan knows, the road is never easy and with every victory, there are plenty of heartaches and disappointments. All the memorable moments and players are too many to mention here, but, take a look back at some of the highlights and heartaches of the past 60+ years.