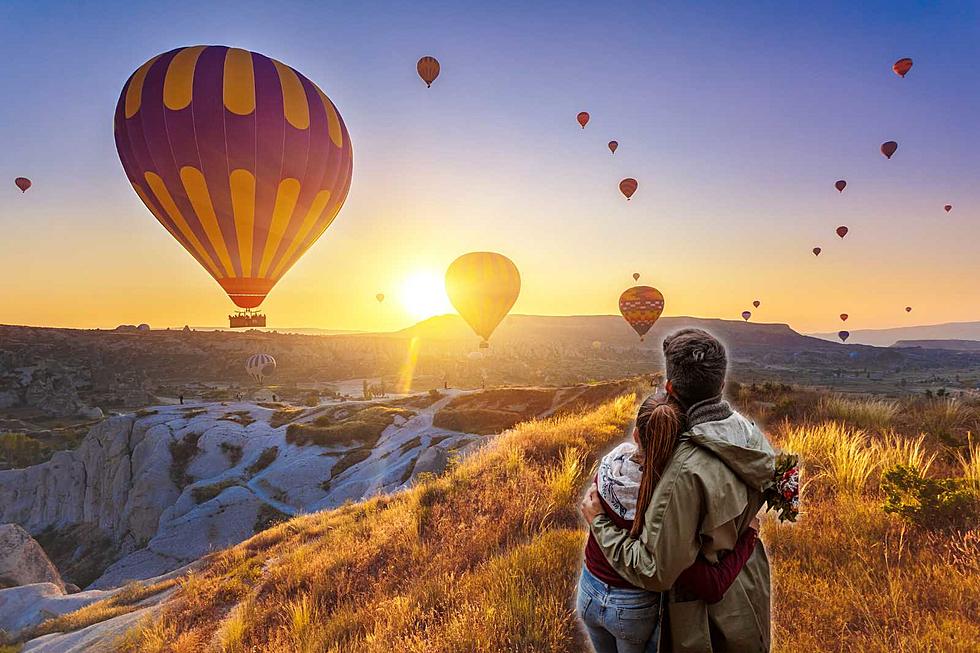 9 Beautiful & Fun Colorado Hot Air Balloon Festivals & Rallies in 2023
Canva.com
With Colorado's high altitude, it's perfect for sending hot air balloons into the Colorado skies. Here are seven great hot air balloon events happening across the state to see them rise.
Balloon pilots from across the country and the world will be flying their "airships" at Colorado hot air balloon events in 2023. Chilly mornings with coffee and majesty and "glows" at night make living in Colorado great.
According to HotAirExpeditions.com, you only have to be 14 years old to obtain a student balloon pilot's license. You wouldn't be able to carry any passengers, but still, that would be very fun at 14; considering you can't even get a driver's permit that young.
Those wonderful hot air balloons that you see with the gondolas that hold the pilot and four passengers can run $35,000 to more than $45,000. Add in the hours of travel and setup time, you know that these pilots really love hot air ballooning.
That's why when you attend a festival or rally you should try to thank those pilots, as courtesy.
One hot air balloon event in Colorado for 2023 includes a 5K and several live bands; another is returning from having to take a year off in 2022.
Let's take a look at eight hot air balloon festivals and rallies coming to Colorado in 2023.
TELLURIDE BALLOON FESTIVAL - JUNE 2, 2023
Anyone who's visited Telluride, can tell you that when you're there, you just feel 'Colorado.'  For example, if you were to send a picture of Main street to a stranger across the world, they would probably say, 'That's Colorado.'  Telluride's annual balloon festival would be a perfect time to visit; whether it's your first or fiftieth time.
ERIE HOT AIR BALLOON LAUNCH - JUNE 9-11, 2023
Erie, Colorado, has gone and turned its annual hot air balloon launch on its ear, in a good way. For 2023, the event will get its very own weekend, at a new location.
FREDERICK IN FLIGHT - JUNE 23-25, 2023
This will be a great, three-day event to celebrate Colorado, hot air balloons and summer. After a dozen years, the Town of Frederick knows how to put on this event; the Saturday night of the event they'll be throwing a big party, for Frederick in Flight.
STEAMBOAT'S YAMPA VALLEY BALLOON RODEO - JULY 27-29, 2023
After having to take 2022 off, Steamboat's event is back in 2023 as the Yampa Valley Balloon Rodeo. 
MOFFAT COUNTY HOT AIR BALLOON FESTIVAL - AUGUST 5-6, 2023
This one even includes a cardboard boat regatta. Moffat County's Hot Air Balloon Festival takes place in beautiful Craig, Colorado.
COLORADO SPRINGS HOT AIR BALLOON LIFT OFF - LABOR DAY WEEKEND, 2023
The weekend even includes a 5K; how many hot air balloon festivals throw in a 5K?
The Colorado Springs Labor Day Lift Off definitely seems like a Colorado bucket-list event. There'll be many, many great balloons, as pilots come from across the nation to be part of the Lift Off.
WINDSOR'S 'PICTURE THE SKY' HOT AIR BALLOON RALLY - LABOR DAY WEEKEND, 2023
Gather the gang and get them up early to head into Windsor to see the wonder of hot air ballooning. The Harvest Festival is Windsor's biggest event of the year, and the hot air balloons are a big part of it.
SNOWMASS BALLOON FESTIVAL - SEPTEMBER 22-24, 2023
This one, at Snowmbass Ski Resort, has been happening for nearly 50 years. The trees will look great and the hot air balloons will look majestic as they take to the sky each morning. You should make sure that you have plenty of storage on your device for all the photos that you'll be taking at the Snowmass Balloon Festival.
AIMS COMMUNITY COLLEGE 'GREAT AARDVARK EMBARK' - SEPTEMBER 30, 2023
The 6th annual hot air balloon launch at AIMS Community College in Greeley, "The Great Aardvark Embark" has been scheduled for Saturday, September 30, 2023.
7:00 a.m. - 7:30 a.m. - Balloon Launches.
5401 W. 20th Street, Greeley. Athletic Field of Cornerstone Building,
About 6-8 Hot Air Balloons.
No Hot Air Balloon rides are being offered.
Breakfast Burritos and Coffee for sale at the event.
MORE Colorado Festivals: Must-Do Summer Festivals for 2023
Summer is on the way, and that means festival season in Colorado. A number of great music festivals, state fairs, county fairs, and even a Shakespeare Festival are in store for us in Colorado.
Check out the schedule and details for some of these awesome events. You'll find something in just about every corner of the Centennial State. Keep a close eye on the dates, though. Some of these events overlap. In addition, some of Colorado's festivals run for several weeks.
MORE Colorado Festivals - The 12 Best Outdoor Festivals in Colorado
Are you looking to take in a concert? Perhaps an entire festival. Are you ready for one of Colorado's awesome Bluegrass festivals? While you're at it, how about an outdoor film festival? From skiing, ice climbing, music, to beer, Colorado hosts some of the best outdoor festivals in the nation. Here's a look at some of the best outdoor festivals coming to the Centennial State in 2023.