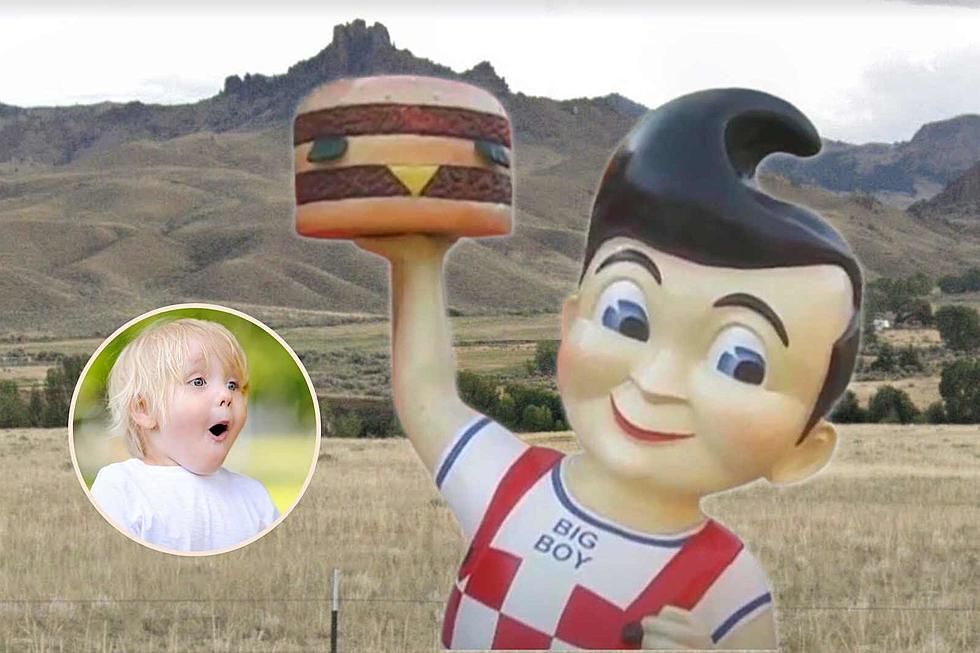 A Jolly 'Big Boy' Statue Alone in Wyoming Can't Help But Make You Smile
Google Maps, YouTube/Kiss Cactus
You have to appreciate someone who goes out of their way to create a very unique conversation piece. They even put Big Boy up on a sturdy concrete pedestal. What are you a fan of, so much, that you'd do the same?
Imagine, tooling along the highway, maybe you heading into Yellowstone National Park, and see off to the south, a Big Boy statue. "What the what?" You'd definitely be inclined to pull over, wouldn't you?
You'd have to agree, that when most people think about traveling the highways of Wyoming, they think: Wide open, fields, bison. On the list of "I spy" items, a fast food symbol, would probably not come up, at all.
Big Boy restaurants date back to 1936 in California, with Bob Wian opening up his very first restaurant, Bob's Pantry, where he created the Big Boy Burger. That burger was such a hit, that he changed the name of the restaurant to Bob's Big Boy,
There's a Big Boy in Burbank, California that is famous for being in movies, like "Heat" with Robert Dinero and Al Pacino, and "Reality Bites.' You may remember the movie "Austin Powers: International Man of Mystery," where Dr. Evil blasts off into space in a giant Big Boy turned into a rocket.
Wyoming's CowboyStateDaily.com, has the story about a lone Big Boy statue west of Cody, near the town of Wapiti. It's actually called "the Wapiti Big Boy," and has been around since 2013.
Here's how he looks from the road, you really need a telephoto lens to get a great shot.
The man who owns the land that this Big Boy stands on really likes the restaurant and what Big Boy "stands for," so he managed to get one from an original Bob's Big Boy in California.
I wonder how many people road trip with their cameras, just to get a photo of the Wapiti Big Boy? "Come on, get out of the car! We have to get a photo! This is too much fun!"
Wyoming's Big Boy is about a mile east of the Yellowstone Valley Inn on Highway 20.
MORE Road Trips: 6 Kitschy Motels for Your Colorado Road Trip
More Fun: Classic Colorado TV Commercials
According to you, these are some of the most memorable Colorado TV commercials.