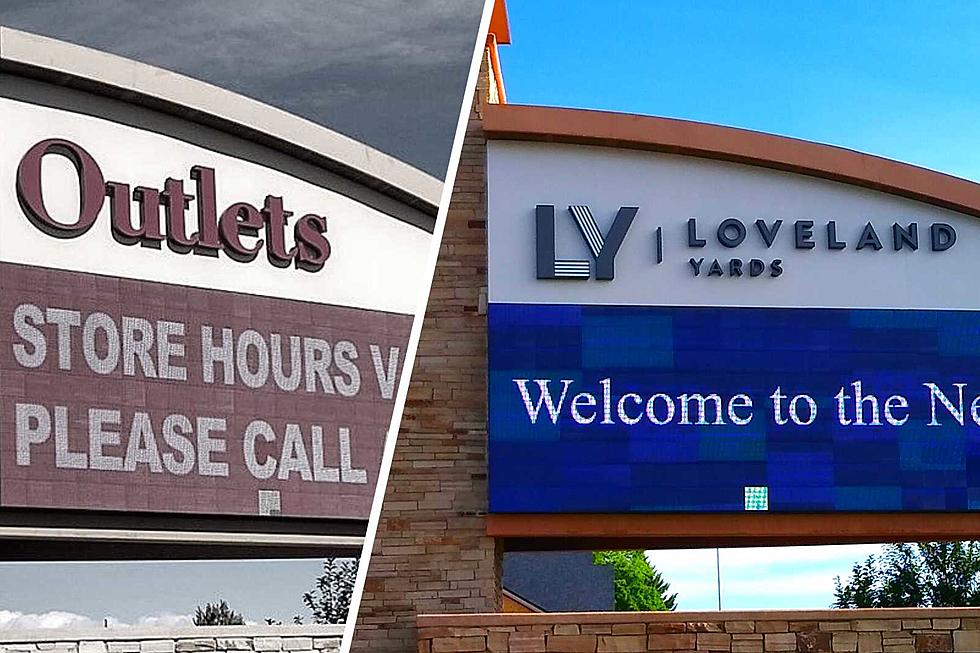 Former Popular Colorado Outlet Mall Officially Bought Out, New Sign Goes Up
TSM/Dave Jensen
The old sign is gone, the new name is official, and both the north and south sides of the old Outlets of Loveland are now owned by one new owner. With a total price tag of over $25 million, it's "out with the old, in with the new."
It was announced in late 2022, that the Outlets at Loveland would become Loveland Yards, after an investment group out of Windsor had officially purchased the north side of the outdated mall for $15 million. While things are changing, it does seem like the Yards won't look terribly different. 
According to MileHighCRE.com The investment group that began the transformation of the Outlets at Loveland by purchasing the north side (parcel,) have now also purchased the south parcel for $12.3 million, having now put $27.3 million into the Loveland Yards project.
Loveland Yards will be made up of an assortment of retail, office, light industrial, and entertainment spaces. They won't be tearing any existing buildings down; they'll just be fixing roofs, upgrading the facades, and putting a fresh coat of paint/lines in the parking lots.
Having grown up in Loveland, seeing the rise and eventual fall of the Outlets, I was hoping for a "whole new look," but at least there will be activity out there, and that's good.  In early June of 2023, I went out to Loveland Yards to see how things were progressing.
It was definitely weird to see the new branding:
I saw a fair amount of construction going on, upgrading those facades.
A couple of the announced businesses had begun putting up storefronts
WHAT IS THE LATEST LIST OF TENANTS COMING TO LOVELAND YARDS?
Avery's Tea House
Citipointe Church (already exists on the south side)
Cylclebar
Ewing Leavitt Insurance
FyrePro
Gold's Gym
School of Rock
Slate Studio
Trek Bicycles
Tenants have the option of leasing or purchasing their spaces, which is a different model than what the Outlets at Loveland had. I'm sure that I'm one of many that are hoping that Loveland Yards really takes off and makes the area a destination like the Outlets were in their heyday.
MORE Loveland: 7 Beefs Loveland Has With Fort Collins
Though Loveland is the 'Sweetheart City,' it can get 'cranky' when it comes to visiting its neighbor up the road.
MORE on Loveland: 23 Things Lovelanders Would Like to See Happen in 2023
The people of The Sweetheart City have more than a few things that they'd like to see happen to the city in 2023. Do you agree with what they're hoping for?