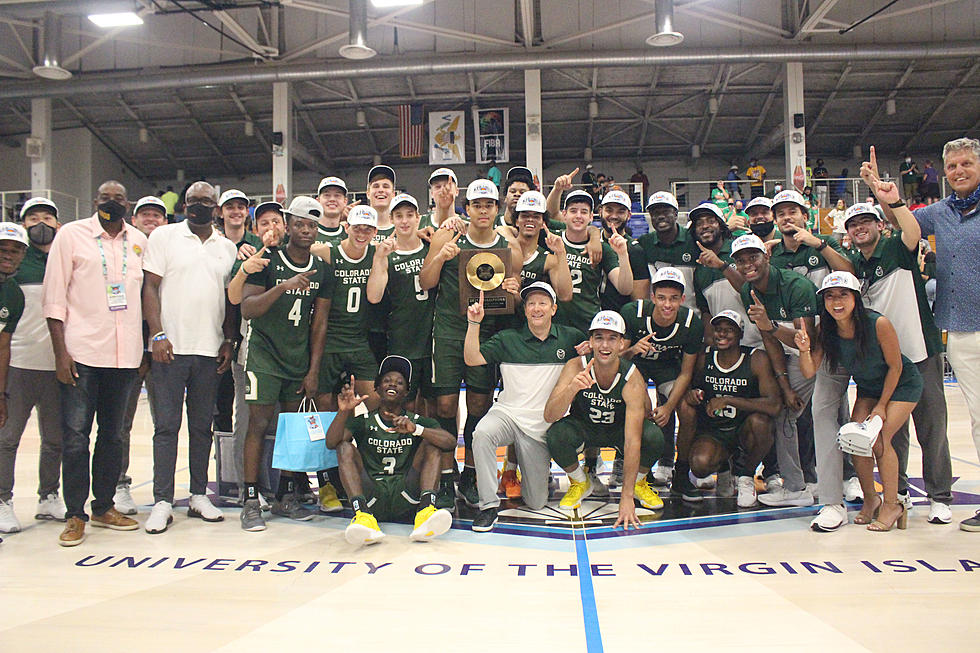 Officially Ranked: CSU Men's Hoops Finally Cracks AP Top 25 Poll
John Martin/Colorado State Athletics
It's the unparalleled recognition and extremely well-deserved moment this Colorado State men's basketball team and fans alike have been fighting for all season long.
On Monday morning (Dec. 13) the Associated Press (AP) released its weekly Top 25 poll, an official ranking of the 25 best teams in college basketball; this week's rankings are special though - because, this week (Week 6), the Rams have officially been ranked. 
Ranked at No. 23 in this week's AP Top 25 and USA Today's Sports Coaches Polls, this is the first time the Rams have been ranked since the 2014-15 basketball season, and only the ninth time (ever) that Colorado State has been ranked in the AP Poll.
There's a lot you can say about this Colorado State team - for starters, though, they just don't. give. up.
If you were watching last Saturday's game - when the Rams took on the Mississippi State Bulldogs during the Naismith Memorial Basketball Hall of Fame game in Fort Worth, TX - or quite frankly, have been watching this team play at all this season, you know exactly what I'm talking about.
Even after trailing a strong SEC team for a good majority of last weekend's basketball game, it was the Rams who showed out in the last few minutes of the game - an epic comeback performance that put CSU back on top as the final game buzzer sounded off.
Throughout this entire record-breaking season, Ram fans, sports reporters, and analysts have been watching this Colorado State team both impress and improve week after week - it was only a matter of time until this mighty talented team would receive the recognition they deserve.
It took 10 straight wins - impressive, tough, hard-earning wins at that - but the Rams have done it. The best part is? There's still so much fight left in this team.
What's Next?
This week, Colorado State men's basketball is hitting the road once again and will be back in Fort Worth, TX to take on the Tulsa Golden Hurricane in the Hoop Hype XL College Basketball Showcase on Saturday, Dec. 18. The game will begin at 2 p.m. MT.
Then, the Rams will be headed to Birmingham, AL to play in a matchup against the Alabama Crimson Tide (8-1, ranked 6th in the AP polls) in the inaugural C.M. Newton Classic. That game will take place on Tuesday, Dec. 21 at 5 p.m. MT.
It has truly been such a joy watching this Colorado State basketball team play this season, and I can't wait to witness all the success they will continue to have as the season progresses.
CSU, you've certainly made a Ram fan out of this Alabama Crimson Tide lover.
(Roll tide forever, but in this case - GO RAMS!)
CSU Rams Fans Through the Years
Worst Trades in Colorado Sports History