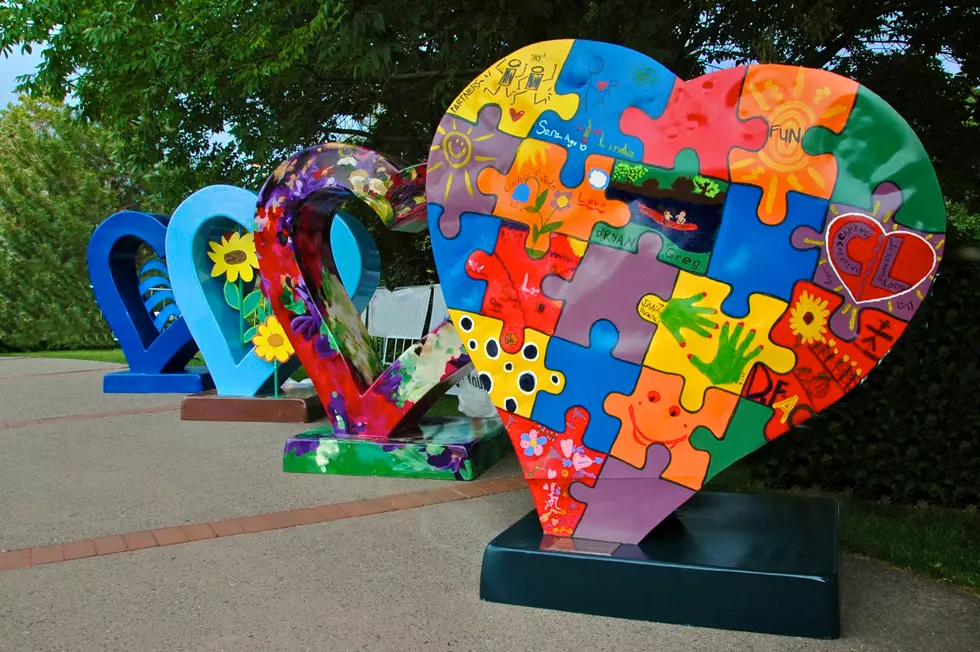 America's Largest Valentine's Day Festival Held in Loveland
Loveland Sweetheart Festival
Schedule
5:00 PM: Festival opens: Kids Zone, Beer/Wine Garden, Palace of Sweets, Food Court, Love Locks, Luminarias, Art projects, DJ playing music
6:00 - 8:00 PM: Dotsero performs
8:00 - 10:00 PM: Live DJ
10:00 PM: Festival closes
2:00 PM: Festival opens: Kids Zone, Beer/Wine Garden, Palace of Sweets, Food Court, Love Locks, Luminarias, Art projects, DJ playing music
2:00 PM: Little Miss Valentine and Mr. Cupid Contest
2:30 PM: Sweetheart Classic 4 Miler race begins
3:30 PM: Sweetheart Classic 4 Miler awards ceremony
4:00 - 5:00 PM: Funky Business performs
6:30 - 8:00 PM: Spinphony performs
10:00 PM: Festival closes
Interactive Art Installations
Four interactive art installations are all free and open to the public and allow visitors to add their own creative flair.
"For the Love of the Earth" – Pinwheel Project: This Earth Friendly Up-cycled Art Piece will be made of 240 colorful pinwheels created out of post-consumer plastic bags fused and decorated by the attendees of the Sweetheart Festival.
Community Mural at 4th and Lincoln Ave. : The community will come together to create a mural out of 320 individually painted nine-inch-square tiles. Festival attendees will visit the tent to help paint the mural tiles throughout the festival and the mural will be built afterward.
Heart String Art: Sweetheart Festival attendees will work together to build a rainbow-colored heart art piece out of string.
Ceramic Raku-Firing Demos: Watch as Amy Joy Hosterman creates custom ceramic pieces to give away to the public during the Loveland Sweetheart Festival. She will make and give away 100 ceramic pieces that fit the love lock imagery and include words like "Loveland 2019", "Sweetheart City", or "Love, Locks & Lights".
For the Love of Beer and Wine tasting area
The "For the Love of Beer and Wine" area features Seagrams, Grimm Brothers Brewhouse and the Bleeding Heart valentine brew, Big Thompson Brewery, Verboten Brewing, Loveland Aleworks, Crow Hop Brewing, Rock Coast Brewery and Sweetheart Winery.
Palace of Sweets
Step inside the Igloo and enter Loveland's own palace of sweets. Enjoy treats from Rocky Mountain Chocolate Factory, B Sweet Cupcakes, Starlight Dessert Bar, Colorado Candy Company and Heaven's Popcorn.
Live Entertainment
Spinphony: Crossover string quartet "Spinphony" is breaking down barriers between classical, rock, and pop music.
DOTSERO: Contemporary Jazz at its best, full of life energy and spontaneity that few artists in the genre have been able to match.
Funky Business: A fiery, energetic, party band in Northern Colorado.
Little Miss Valentine and Little Mr. Cupid Contest
Loveland's Little Miss Valentine or Little Mr. Cupid contest invites children ages 0-4 to dress up, ham it up on stage for a chance to win prizes. Dress your little Miss Valentine in all things LOVE or your little Mr. Cupid like the winged god of love and compete for the title. There are twi different age categories: 0-2 and 3-4-year-olds. Contestants will be judged on creativity of costume and personality. Contestants must register ahead of time. Cut off is Wednesday, Feb. 6. Register online at LovelandSweetheartFestival.com
Family Fun Zone
The family fun zone is anchored by Snowzilla Jr. the largest inflatable slide in the world, also includes face painting, Sweetheart glitter tattoos, and princess meet-and-greets on Saturday.
Art Gallery Walk
Take in Loveland art scene with shows, tours, and demos on this winter art gallery walk. At the heart of the festival, the 4th Street gallery will feature the "Love in a Steampunk World" art show coordinated by the Artists Collective.
Galleries for Art Gallery Walk
Independence Gallery, 10th Annual 65 Roses for Cystic Fibrosis
Loveland Museum, Black Valentine
Lincoln Gallery, Champagne, Love and Chocolate
Artspace Loveland Art Campus, two shows, Love letters in the Wind and L'Amour Illumine'
Artworks Loveland, with two shows, We are all MAD here an interactive installation by Becky Hawley and Altered Perspectives by Brandon Gellis and Billy Harris
Lamplight Studio/ Loveland Aleworks, Loveland Love + Light Event
Loveland CreatorSpace, No art show, but will be doing demos and tours
Rabbask Designs, Artist Demos and Decorate your own button station
Sweetheart Classic 4-miler
Sweetheart City Racing's 4-mile race starts and ends at the Loveland Sweetheart Festival stage. Singles and couple registrations are available. The first 200 registrants get a complimentary love lock. Register online at SweetheartCityRacing.com.
Love Sculpture
Anchoring the event is one of the largest love lock sculptures in the U.S. This 10-foot-tall, 30-foot-wide steel LOVE sculpture weighs 24,000 pounds and will be introduced during the festival. Attendees can purchase a customizable love lock to secure on the sculpture.