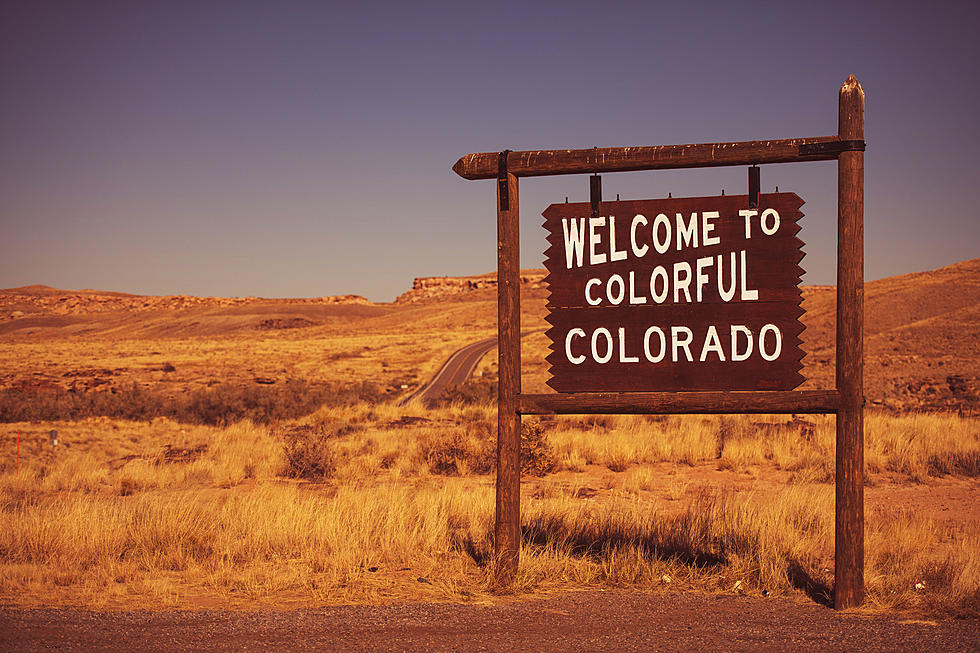 How Much Do You Know About the Odd History of Colorado and Wyoming?
ThinkStock
Sure, we Coloradans know the many, many differences between our state and our neighbor to the north, as I'm sure they do too. With things like college football, certain rodeo and western celebrations or claims to who really is "home" to the Rocky Mountains, the rivalry between Colorado and Wyoming is real.
As the only two states in the country with four clean borders shaped like rectangles and often somehow confused by people on a map — not sure how, but ok — there are many similarities but many, many differences between here and there.
How much do you know about our beloved Colorado's history? And aside from the fact it always seems to be windy up there, how much do you know about our neighbor to the north?
Here's a deep dive of fun facts about each state for you to share at your next "Border War" party.
Which state boasts an officially designated "intergalactic spaceport" for inhabitants of the planet Jupiter who might wish to take sanctuary on Earth in the event collisions threaten their planet from comets or meteors?
Crazy as this may sound, it's legit. And, of course, it's Green River, Wyoming. The Greater Green River Intergalactic Spaceport is a real place. It's not an elaborate airport — there are no structures or flight operations based there — but there is a 5,700-foot runway and a windsock. In 1994, the Green River City Council officially designated the landing field as a spaceport and invited refugees from Jupiter to hang out if they wanted to.
Which state manufactures all of the awards that are given by the Recording Academy at the Grammys each year?
Not even a company, but literally one guy makes by hand each and every Grammy award given out each year. His name is John Billings, and he makes them in his shop in Ridgway, Colorado. Billings makes the Grammys from zinc alloy, which he calls "Grammium," then gold plates and ships the awards to the ceremony each year.
Which state's airport held a massive pizza party for airline passengers stranded by bad weather?
In 2014, a Frontier Airlines flight from Washington, D.C. to Denver was diverted to Cheyenne, Wyoming, because of bad weather. As the plane sat on the tarmac, loaded with tired and hungry passengers, the worst-case scenario unfolded. The plane ran out of food.
The pilot sprung into action and called in Domino's to the rescue, ordering and paying for 30 pizzas to be delivered to the plane so his inconvenienced passengers wouldn't go hungry. So while the flight was bound for Denver and ultimately ended up there, the pizza party took place in Wyoming.
Which state is the birthplace of the "automobile boot" that locks a car in place because of unpaid parking tickets?
Congratulations for being lame, Colorado. You win this one. Denver resident Frank Marugg invented a wheel clamp in the 1940s and sold them to the Denver Police Department. DPD became the first police department in the country to use the annoying devices in the 1950s.
Which state was home to Mike the Headless Chicken, who lived for 18 months as a sideshow freak, despite not having an actual head?
I would have put my money on Wyoming for this one, but alas, Mike the Headless Chicken resulted from a botched beheading in Fruita, Colorado. Somehow he managed to survive not having an actual head by eating small grains of corn and drinking milk and water for 18 months. In that time, he made quite a bit of side hustle as a sideshow sensation, bringing new meaning to "running around like a chicken with its head cut off."
Which state had a mountain literally move 62 miles because of a large volcanic landslide?
Colorado may be known for its mountains, but in this case, Wyoming is the state where the mountains have moved. Scientists estimate that Heart Mountain near Cody, Wyoming, literally slid off the Absaroka Range millions of years ago down into the Big Horn Basin.
Which state is the only state in history to turn down an offer to host the Olympics?
Sounds like a pretty "get off my lawn" type rejection you might hear from Wyoming, but indeed, it is Colorado. In 1970, the Olympic Committee awarded the city of Denver and the state of Colorado the 1976 Winter Olympics after accepting their impressive bid. Unfortunately, a series of miscalculations and mistakes caused public feelings about hosting the Olympics to turn, and voters would not approve the actual spending needed to pull off the event. So the city of Denver ultimately said "thanks, but no thanks" to the Olympic Committee. Those games were held in Austria instead.
Which state boasts the longest continuous street in the United States?
Stop me if you've heard this one before, but it's Colorado. Specifically, Colfax Avenue in the Denver Metro area. It clocks in at 53.3 miles long from Golden all the way out to Strasburg.
Which state was home to the world's first J.C. Penney store?
James Cash Penney founded what ultimately would become one of the world's largest department store chains on April 14, 1902. The very first store was in Kemmerer, Wyoming.
Which state is home to the "jackalope," a combination of a rabbit and antelope?
That one is all Wyoming. In the 1930s, a couple of brothers with taxidermy skills grafted some deer antlers onto a rabbit's carcass and sold it to a hotel in Douglas, Wyoming. The state of Wyoming legislature has since considered making it the official mythical creature of the state, but nothing formal has ever been passed.
10 Amazing Things Colorado Offers
Living in Colorado is incredible and there are 10 easy reasons as to why.
50 Mean Things Said About Wyoming