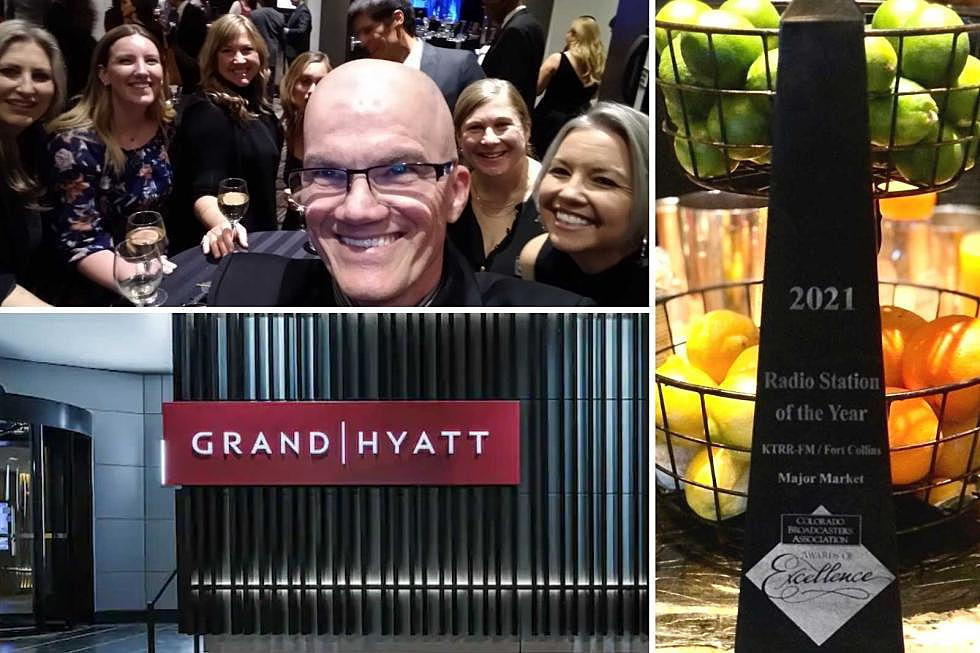 RETRO 102.5's Big Awards Night in Pictures
TSM, Facebook/Grand Hyatt Denver Downtown
On Saturday night, April 9, 2022, the Colorado Broadcasters Association held its annual Awards of Excellence in Denver. RETRO won as our market size's Station of the Year. Take a look at how the night, and day after, went.
What happens with the Awards of Excellence, is that stations submit their entries for a number of categories for a given year. Those entries are judged by radio personnel in another state, to make things unbiased.
With the entries, the judges go through their assigned categories and rate the submissions. In the end, for each category, there is a first place, 'Award of Excellence,' or 2nd place, 'Certificate of Merit;' the former earning 5 points for that station, the latter earning 3 points for the station. The station in its market-size (Small, Medium, Major, Metro) that garners the most points, is proclaimed 'Station of the Year.'
RETRO 102.5 (KTRR-FM) submitted 14 entries, for 2021; we won three 'Awards of Excellence' for 15 points and four 'Certificates of Merit' for 12 points. With a total of 27 points, RETRO 102.5 won for Major Market. It was a big night, for sure.
I've worked for the stations here at 600 Main Street in Windsor for 25 years, mostly for KTRR-FM. My very first radio job was at the former KTRR-FM that existed in the late 1980's -that station was on College Avenue south of Harmony. So, having 102.5 win Station of the Year was very exciting for myself, as well as Kama, our Midday person, and the entire station staff.
I thought we could show our listeners some of how the night went. Take a look:
The event took place in the heart of Downtown Denver at the Grand Hyatt, a very swanky hotel. The CBA Awards Gala was in the Colorado room, very fitting.
In the Hyatt's restaurant/bar, The Courier, they have this big typewriter on the wall. I thought it fit into the night of media awards.. though not print media. Maybe it's ironic?
Kama's husband was unable to attend the event, so Kama's guest was her sister, Sarah. Kama and Sarah get along terrific. They both had a blast.
My guest for the event was my cousin, Katie. We are both the eldest in our families; we both have younger brothers. She lives in Parker, so it wasn't that far of a drive. She was excited to be a part of the night.
We had a total eight people at our table (#26.) This shot is from the 'cocktail hour' prior to the event officially getting underway. There were a lot of radio and TV people mingling; it was pretty loud.
The bottled beer offered for the event featured a local favorite, though 90 Shilling is not one my personal favorites.
Above, the president of the Colorado Broadcasters Association, Justin Sasso, addresses the crowd. There were probably 500-600 people in attendance.
Josh Blue performed a stand up for us. He's always fun.
The Really Good Stuff
Kama and I rushed up to the stage to accept KTRR's award for 'Station of the Year.' I hugged Justin. I don't think he was thrilled about that, but he took it in stride.
Our co-worker Big Rob, from 99.9 The Point, noted that Kama and I couldn't stop smiling. My face hurt the next day.
I won't lie, I was very excited; hard work had paid off. This marble obelisk weighs a good 30 pounds.
At the 'After Party' we had at the Hyatt's bar, we bought the trophy a Denver Pale Ale.
Table #26 with the 13 awards that Townsquare Media took home that night.
The next day, after we had stayed the night at the Hyatt, I met Kama and her sister downstairs at the restaurant for breakfast.
The 'Victory' tour as I called it on Sunday, began with waters. Lots of waters. Along with coffees and breakfasts.
A tasteful shot of the trophy. 'Fruits of Victory,' I call it.
After breakfast, the 'Victory Tour' continued, as Kama, Sarah and I took the trophy over to the Brown Palace. It's not likely that the trophy will be back in Denver ever again, so we thought it should see the Denver landmark.
The trophy enjoyed a very safe ride home to Loveland in my car.
The 'Victory Tour' continued Sunday evening at Betta Gumbo in Downtown Loveland. "It's a major award," I kept telling people as they'd glance over at the tall trophy.
The trophy now sits in our lobby, at 600 Main Street in Windsor. Viewing hours are 8 a.m.-5 p.m., Monday through Friday.
The May Not Have Won Awards, But These Restaurants are Dearly Missed in Fort Collins
Quiz Time: Colorado or Not Colorado?
I have this quiz for you to take - Colorado or Not Colorado. Below is a series of photos of places I have been to or have lived like Missouri, South Dakota, North Carolina, New Mexico, Arizona, and Indiana. Your job is to look at the photo, decide if it's Colorado or not, and then scroll down to the next photo to see if you are correct. I think it could be pretty challenging, however, you may actually recognize some of the Colorado photos. Scroll slowly and take a moment to pause at each one and make your guess.