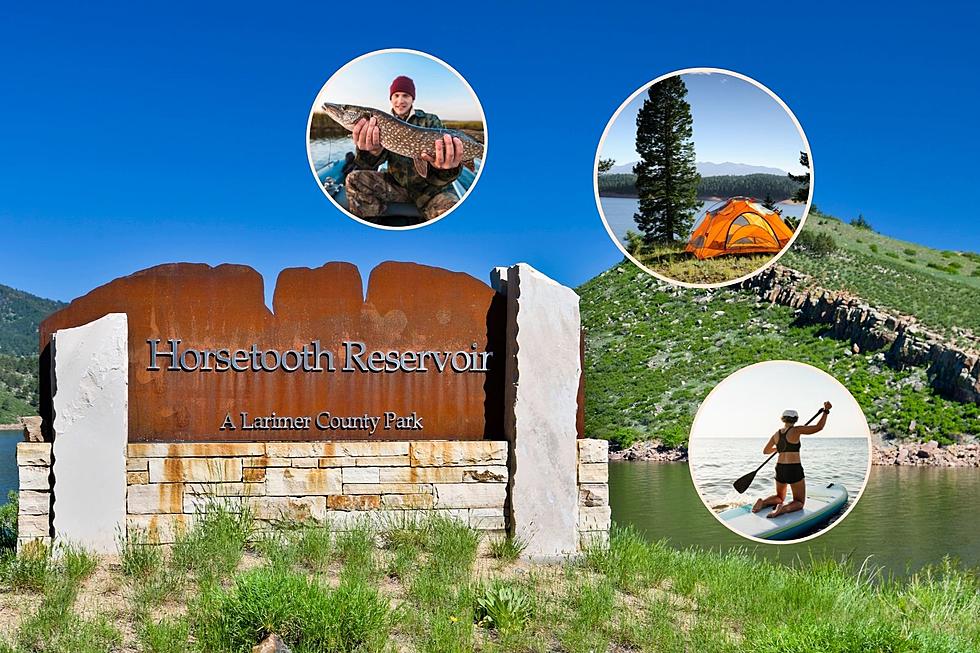 The Best Activities to Do at Horsetooth Reservoir
Canva
From majestic mountains to big cities, Colorado seemingly has it all. However, the Centennial State is missing one key element: the ocean.
Thankfully, Northern Coloradans can find their beach at Horsetooth Reservoir. Here's how to make the most of your time at the Fort Collins staple:
Hiking at Horsetooth Reservoir
Horsetooth Mountain has two main hiking trails: Horsetooth Falls and Horsetooth Rock. The former is easier while the latter is more difficult — but both hikes lead to stunning views.
AllTrails reports that you can also hike directly to the reservoir via the Shoreline Trail in Lory State Park. There are numerous miscellaneous trails near the water as well.
Paddle Boarding & Kayaking on Horsetooth Reservoir
There are three main paddle boarding areas within Horsetooth: South Bay, Sunrise Beach, and Satanka Cove. What's SUP offers paddle board rentals for all three areas, while Paddle Board @ The Comedy Overlook offers rentals at Satanaka Cove.
What's SUP rents out kayaks as well. You can also rent paddle boards, kayaks, canoes, and hydro bikes from Horsetooth's Inlet Bay Marina.
Boating on Horsetooth Reservoir
Larimer County allows motorized boats (with hour restrictions) in Horsetooth's South Bay, Inlet Bay, and Satanka Cove areas.
Inlet Bay Marina will be your go-to for boat rentals. They offer group boats, pontoon boats, tower ski boats, runabouts, and jet skis.
Fishing at Horsetooth Reservoir
According to Colorado Parks and Wildlife (CPW), you can fish for walleye, trout, and small-mouth bass year-round at Horsetooth Reservoir. If you're lucky, you may also snag white bass, crappie, bluegill, perch, and splake.
Larimer County does have catching limits and size restrictions. Ice fishing is not allowed.
Swimming in Horsetooth Reservoir
The Coloradoan reports that you can swim in two Horsetooth Reservoir areas: South Bay and Sunrise Beach. Be careful with the kiddos — there's no lifeguard on duty.
Larimer County also allows scuba diving in designated areas if a certified instructor is present.
Camping at Horsetooth Reservoir
There are numerous camping opportunities at Horsetooth Reservoir, including full hookup, electric hookup, sewer hookup, water hookup, driveway entry, waterfront, and pet-friendly campsites.
The sites are first-come, first-serve, but you can make a reservation here.
Rock Climbing at Horsetooth Reservoir
According to the Northern Colorado Climbers Coalition, Horsetooth Reservoir features "hundreds of excellent routes and boulder problems of all grades and styles."
Mountain Project recommends trying routes like Curving Crack, Ship's Prow, Penny Lunge, and Bolt Wall. Head up to Horsetooth Mountain for more traditional climbing.
---
Looking to learn more about the outdoors in the Centennial State? Check out Colorado's mountain ranges by name and region in the gallery below.
Colorado Mountain Ranges by Name and Region
Find out more about each one of Colorado's primary mountain ranges, and learn exactly where each one is located in the state.
10 Best 'Easy' Hikes in Colorado According to Alltrails
If you're looking for an easy Colorado hike, here you go. Good news: A hike right out of the Grand Valley is at #2 on the list.