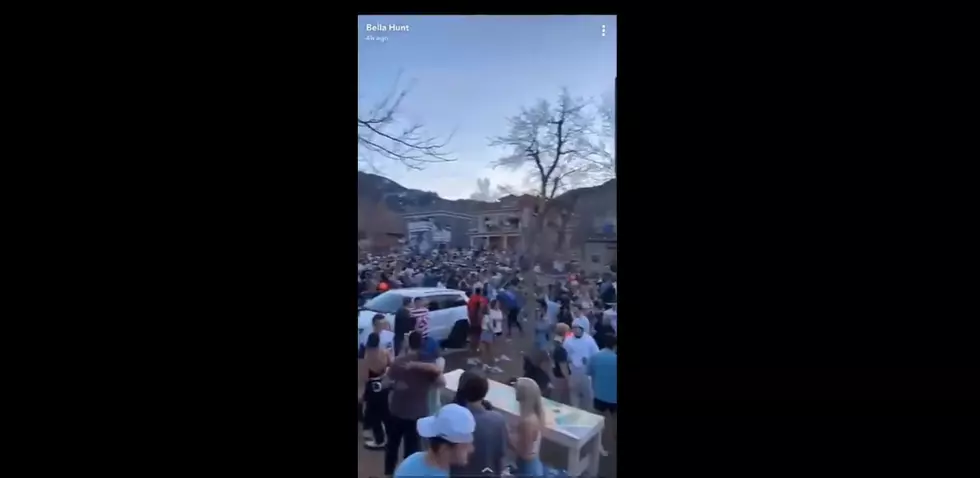 Here's a Tweet Roundup of That 'Party' in Boulder Over the Weekend
@JuciaPucia, Twitter
Colorado made headlines over the weekend thanks to a really, really big 'party' near the CU Boulder campus. While 'oops, that escalated' parties-turned-riots have happened a few times in the last decade (looking at you, Rams Pointe pool party), at least they didn't happen during a pandemic. 
News broke early Sunday morning about the Saturday night riot in Boulder's 'The Hill' neighborhood, which is notorious for college partying. But, this one ended with severe property damage and arrival of a SWAT team, of which some officers sustained minor injuries due to assault, according to CNN.
Tweet roundup:
First of all, maybe we start by calling this what it is.
Word of the gathering quickly spread on social media, like Instagram and Snapchat.
Currently, Boulder is in Level Yellow COVID restrictions, so yeah, this mask-less gathering is not recommended.
Pandemic aside, there was also quite a bit of destruction of property.
At one point, rioters tipped over a car in the street.
Fortunately, there is a GoFundMe for the owner of the car...
...and there were plenty of people who showed up to clean up the mess afterwards.
As for the university's response...
The next day, several residents had to face extensive property damage.
And a pretty beat up SWAT team vehicle as well.
CNN has more on the story here.
5 Kickass Females You Didn't Know Went to CSU