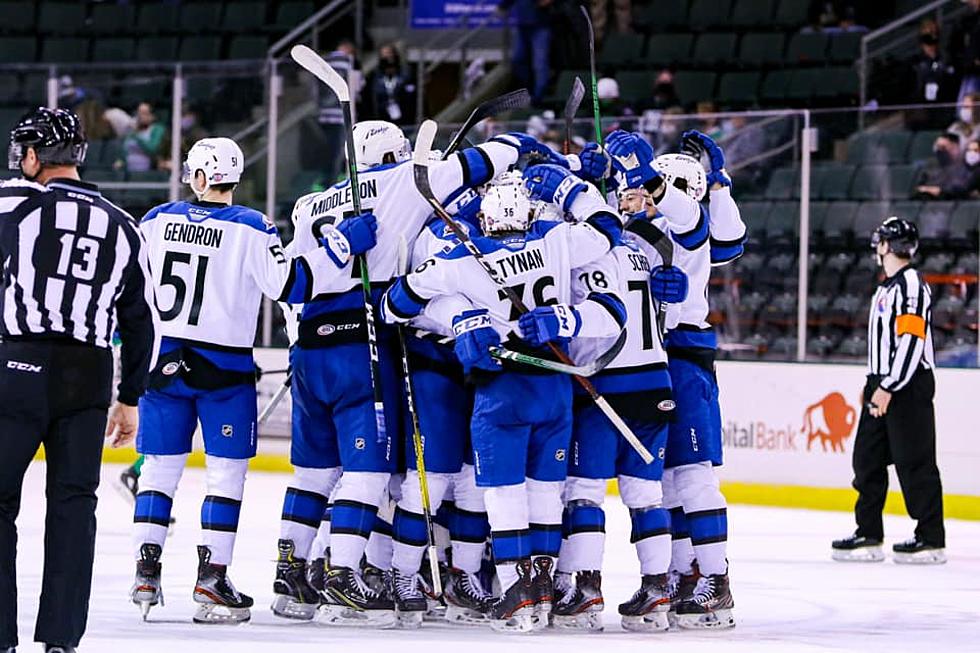 Colorado Eagles Forward Named AHL Player of The Week
Colorado Eagles
Colorado Eagles forward T.J. Tynan came up with some late-game heroics last week.
The Eagles' leading scorer on the season tied the game with Texas Stars last Wednesday before then scoring the game-winner in overtime. The 4-3 win was the Colorado Eagles third-straight victory.
Tynan added four total assists in Colorado's two games last week to be named the AHL/CCM Player of the Week. Tynan will receive an etched crystal award from CCM.
Tynan has 14 points in 11 games with the Eagles this season, including five goals. The Illinois native is in his seventh pro season. A three-time AHL All-Star, he's scored 68 goals and 259 assists for 327 points in 420 career AHL games.
Tynan was originally drafted in the third round of the 2011 NHL Draft by the Columbus Blue Jackets. He's played in 19 career NHL games with the Blue Jackets and Avalanche.
Tynan was the only Colorado Eagles player to come up big late in a game last week.
In a 5-4 win over the Texas Stars on March 16, Eagles forward Jean-Luc Foudy tied the game with 11 seconds in regulation. Forward Martin Kaut then scored the game-winner with his first goal of the season.
The Eagles are on a three-game winning streak after a four-game series at the Texas Stars. As of Monday, March 22, the Eagles had 14 points on the season and ranked in fourth place of the AHL Pacific Division.
Goalie Miska Returns To Colorado Eagles
Goalie Hunter Miska rejoined the Colorado Eagles after being reassigned by the Colorado Avalanche. Miska started the Eagles home opener earlier this season and went on to play in four NHL games.
The Avalanche then recalled goalie Adam Werner to fill Miska's spot. Werner has played in four games for the Eagles this season.
Games This Week
8 p.m. Wednesday, March 24 at Henderson Silver Knights
8 p.m. Friday, March 26 at Henderson Silver Knights
8 p.m. Saturday, March 27 at Henderson Silver Knights
The Eagle's Nest Notebook is a weekly Monday look at the Colorado Eagles professional minor league hockey team. The Eagles are affiliated with the NHL's Colorado Avalanche.
UP NEXT: 10 of the Best Athletes Born in Colorado