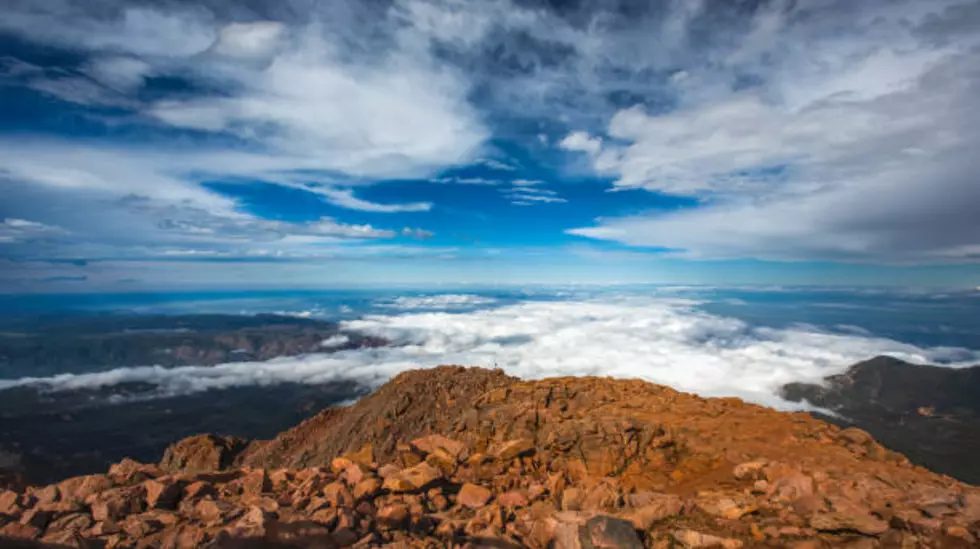 A Peanut Will Get Its Chance To Summit A Colorado 14'er Next Month
Getty Images
As you can imagine, there's a lot of crazy to unpack with this one.
Next month, a Colorado man is going to attempt to summit one of the state's popular 14'ers - which is quite the challenge in itself... but this man is looking to turn the challenge up a notch (perhaps even a few notches).
In July, Bob Salem of Colorado Springs is going to reportedly use his nose to push a peanut up the trail to the summit of Pikes Peak, the 14,115-foot mountain located in Pike National Forest, just 12 miles west of downtown Colorado Springs.
"Since its recorded history, Pikes Peak has been the inspiration for both tests of courage and willpower", the City of Manitou Springs says. 
According to the city, the unlikely, unique feat has been accomplished only three times during Manitou Springs' 150-year history (the fact that it's been accomplished at all is pretty crazy to me).
"The first, Bill Williams, had lost a bizarre bet that knew no bounds and subsequently performed the feat on May 20 through June 9, 1929.
Perhaps, the most notorious Peanut Pusher was rockabilly music star, Ulysses Baxter, who performed The Peanut Push in a record-breaking eight days," the city of Manitou Springs reports.
When Will Colorado Springs' Bob Salem Attempt The Great Peanut Push?
The City of Manitou Springs says the challenge will begin at the Barr Trail trailhead (near the corner of 540 Ruxton Avenue) on Saturday, July 9. The event is set to finish on or before July 17 about 7,800 feet higher, at the summit of Pikes Peak.
The City of Manitou Springs and the Manitou Springs Heritage Center and Museum will also host "The Pikes Peak Peanut Pusher-Live from Barr Trail" ahead of Salem's start, featuring live entertainment and a chance for fans to meet the Peanut Pusher and cheer him on to the top.
And, in case you were wondering, Salem will be using a contraption taped to his nose to push the peanut up to the summit (it's really happening).
Bob Salem told the Denver Channel that he's decided to undertake this challenge to celebrate Manitou Springs' 150th birthday.
"There is no city like Manitou Springs," Salem said.
"I am excited to be the one to bring around this bit of history to celebrate Manitou Springs' 150th celebration. I hope everyone takes the time to visit and indulge in the rich history the Pikes Peak area represents. You won't want to leave."
To learn more about the history of the Peanut Push and for more information regarding this year's push, go to manitousprings.org or visit the Manitou Springs Heritage Center and Museum, located at 517 Manitou Avenue in Manitou Springs, CO.
Top 5 Rated Colorado Hikes
The 6 Most Difficult 14ers In Colorado