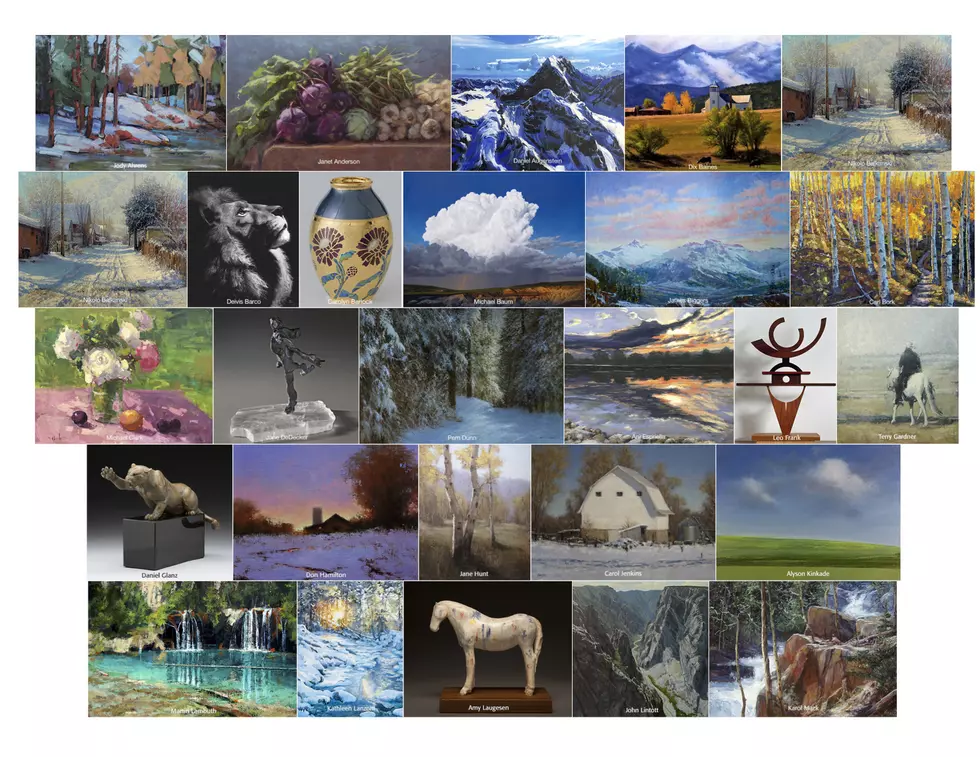 56 Colorado Artists Selected for Colorado Governor's Art Show & Sale
Fyn Public Relations
Selected artists are:
Jody Ahrens - Grand Junction
Janet Anderson - Denver
Daniel Augenstein - Greeley
Dix Baines - Parker
Nikolo Balkanski - Lakewood
Deivis Barco - Denver
Carolyn Barlock - Denver
Michael Baum - Manitou Springs
Kelly Berger - Denver
James Biggers - Estes Park
Carl Bork - Salida
Michael Clark - Estes Park
Jane DeDecker - Loveland
Pem Dunn - Evergreen
Ani Espriella - Longmont
Leo Franco - Denver
Terry Gardner - Morrison
Daniel Glanz - Loveland
Don Hamilton - Castle Rock
Jane Hunt - Boulder
Carol Jenkins - Ward
Alyson Kinkade - Loveland
Martin Lambuth - Denver
Kathleen Lanzoni - Boulder
Amy Laugesen - Englewood
John Lintott - Grand Junction
Karol Mack - Fort Morgan
Kim Mackey - Pueblo
Jeremy Manyik - La Junta
Chuck Mardosz - Colorado Springs
Robert Matthews - Fort Collins
Scott Mattlin - Denver
Patrick McKee - Fort Collins
Audrie Mergelman - Loveland
Scott Metherd - Elizabeth
James G. Moore - Fort Collins
Dawn Normali - Estes Park
Desmond O'Hagan - Denver
Mikael Olson - Denver
Gregory Packard - Montrose
Lydia Pottoff - Longmont
Mike Ray - Littleton
Dennis Rhoades - Evergreen
Jenny Robinson - Brush
Wayne Salge - Johnstown
Kirsten Savage - Fort Collins
Ted Schaal - Loveland
Doug Schneiter - Loveland
Nathan Solano - Pueblo
Pati Stajcar - Golden
Karen Storm - Manitou Springs
Monty Taylor - Loveland
Jacquie Vaux - Fort Collins
Tal Walton - Fort Collins
Ginger Whellock - Castle Rock
Ellen Woodbury - Loveland
The 2018 show will feature three different works of art from each artist at the Loveland Museum Gallery. Attendees to the opening gala Friday, May 11 will have the opportunity to meet many selected artists in person. In addition to the chosen artists, the show will include a legacy artist who has participated in past years of the Colorado Governor's Art Show & Sale and has works in the City of Loveland's Art in Public Places collection. The chosen legacy artist will be announced this spring. Past Legacy Artist recipients are Quang Ho, Kim English, George Lundeen and Mark Lundeen. All art in this year's event will be available for purchase beginning the evening of the Gala and during the run of the show. Show patrons and those who have purchased works from GArtS in the past will have an opportunity to view and purchase work at a special VIP preview event.
Fundraiser
The Colorado Governor's Art Show is a fundraiser for the Loveland and Thompson Valley Rotary Clubs and is endorsed by the Governor of Colorado.  All proceeds will benefit Rotary-sponsored charitable projects and causes, including scholarships for local art students and support of Thompson Education Foundation's Homeless Assistance Fund.