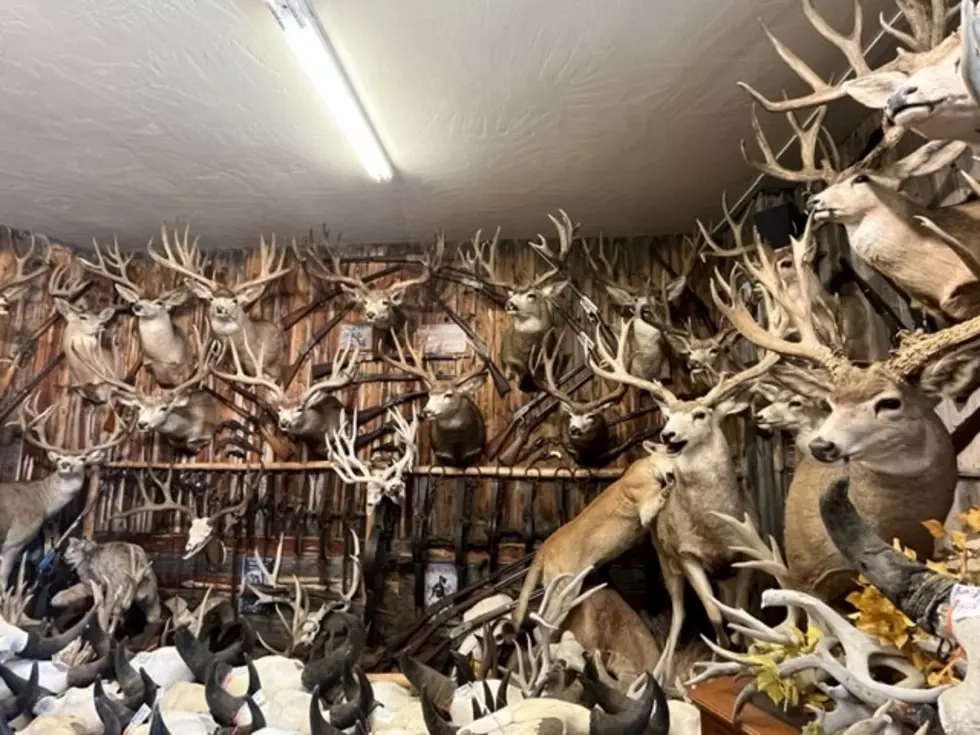 This Unique Store in Gunnison, Colorado is a Must-See
Kelsey Nistel/TSM
One of the most unique stores in Colorado can be found in the small mountain town of Gunnison. Just from observing the outside of this place, anyone can see it's definitely somewhere that's worth stopping for.
Traders Rendezvous opened in June of 1988. Since then, the family-owned business has become a popular place for locals and out-of-towners alike.
The many sets of antlers on the front sidewalk are just a tease as to what visitors can see inside the store itself. With more than a thousand taxidermied animals filling the builing, Traders Rendezvous boasts Colorado's largest display of mounted trophies and antlers. Nearly a hundred different species are mounted inside the Gunnison shop, which makes it feel just as much like a museum, as it does a retail store.
From big cats and moose to bears, elk, bison, and even an alligator, every square inch of this building is lined with some type of taxidermied animal. Customers are asked not to touch any of the mounts but are absolutely encouraged to walk around the store and see all the different species that are on display. Visitors are welcome to take photos - and standing in front of the big grizzly bear is, of course, a common spot to do so.
Traders Rendezvous offers hundreds of elk, deer, moose, and caribou antlers to choose from. Some of the antlers that come in are used to create custom chandeliers, dog chews, and other artistic pieces, which are also for sale inside the establishment.
Selling antlers is a major part of the overall business, but Traders Rendezvous further hosts an annual antler drawing. Between May to August, individuals can bring in their own sheds, skulls, or mounts to sell for profit.
In addition to antlers, a variety of full skulls are available for purchase, including those of bobcats, and wolves. One section of the store features hundreds of hides, ranging from cows to zebras.
Souvenirs, clothing items, and artwork provide more options to buy or browse through.
The Gunnison business has a variety of new firearms; gently used hunting rifles and a large selection of knives for sale behind the front counter. A collection of pre-1964 Winchesters can be viewed on-site as well.
But it's the multiple rooms with deceased animals on display that continue to draw people to this fascinating place. It's not too often (if ever) people get the chance to see certain kinds of animals, like polar bears or African antelopes up-close and in-person.
Traders Rendezvous can be found at 516 West Tomichi Avenue in Gunnison.
Read about another interesting Colorado shop below.
Creepy Colorado Store is Full of Skulls, Spiders + Houseplants
Check out Colorado's Terrorium which has to be one of the creepiest stores in all of Colorado.