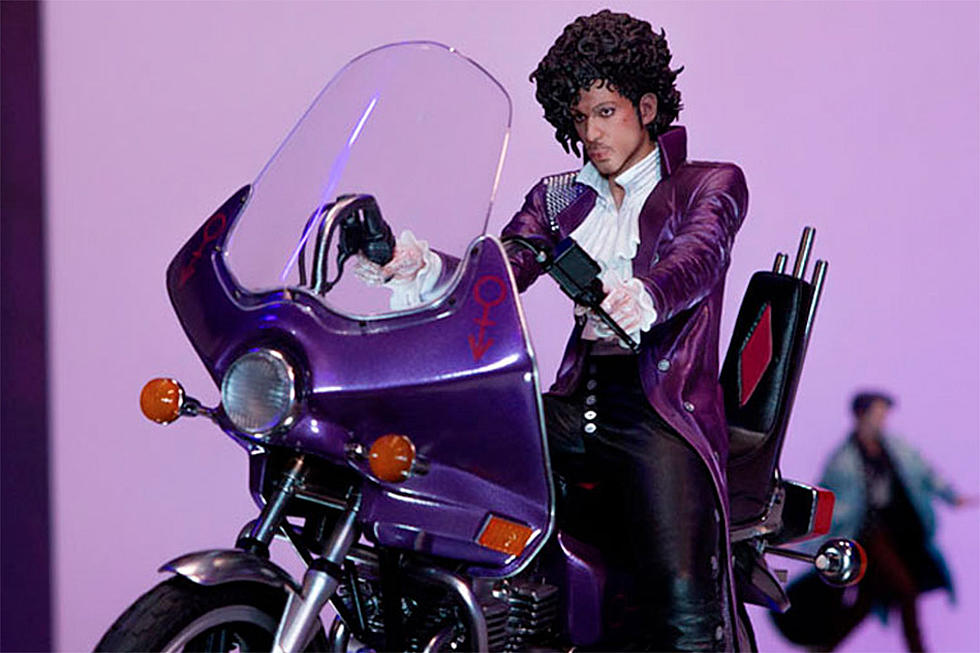 Prince 'Purple Rain' Collectible Statue Coming Soon
Sideshow
Collectibles creator Sideshow has announced the upcoming release of their statue of Prince in his Purple Rain guise.
Developed in association with PCS, the prototype was unveiled at this year's Sideshow Con. The 1:6 scale sculpture features a notably accurate rendition of Prince's face, the outfit he wore as the Kid, and the CM400 Hondamatic motorcycle seen in the movie and on the album cover.
A clip from the convention livestream below offers a look around the replica. Sideshow noted that the "piece would make a great addition to any collection" and invited those who are interested to register their address to be told when it becomes available for pre-order. No price guide was offered. For reference, the company's scale replica figures range in price from under $100 to over $2000. A statue of Arnold Schwarzenegger as the Terminator, complete with motorcycle and a light-up base, in 1:4 scale, is on sale for $2,475.
Those who buy the Prince collectible may care to reflect on what the artist said about life as they enjoy their statue. "Ego is one thing; money is one thing; but reverence to life and service to others is the key to getting off this planet," he told ET in 1997. "Whenever we get too tied down to anything on Earth, be it a name, a body, a lifestyle, that's the road to ruin. When you get too worried about the human body and this lifetime, and you put too much effort in it in a negative sense – like, fighting someone – it just keeps you from your goal."
See Sideshow's Upcoming Prince Statue
Prince's Grammy History