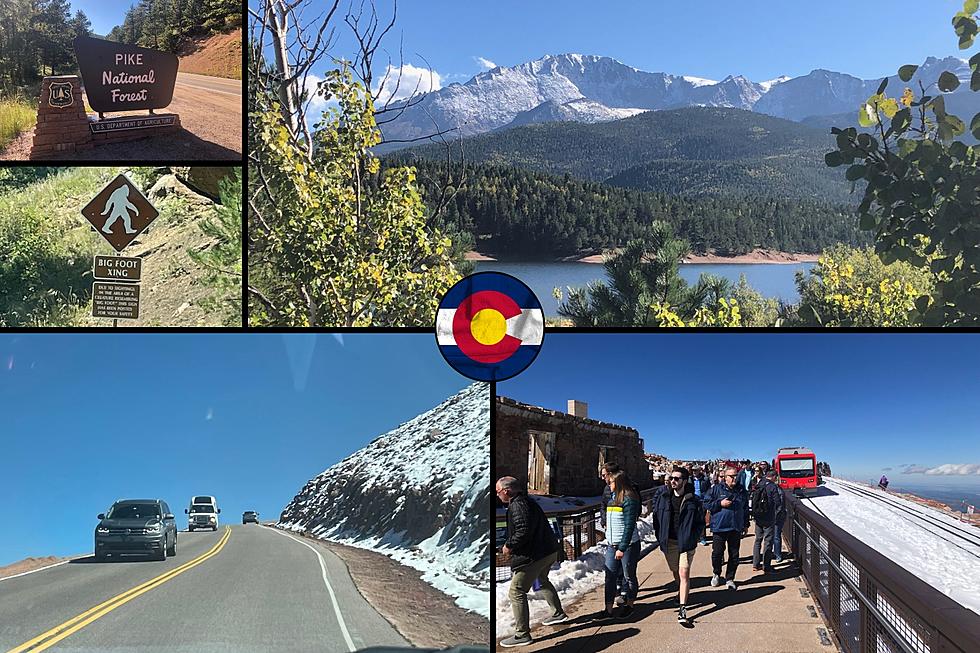 Can You Still Spot Sasquatch at the Top of Colorado's Pikes Peak?
TSM GJ W Adams
The best way to find Bigfoot when visiting Colorado Springs is to head to the top of America's mountain. Pikes Peak has been rumored to be one of Bigfoot's favorite stomping grounds, and I recently had the chance to check it out for myself.
So what is it like to drive to the top of Pikes Peak, and just how many chances will you have to encounter Sasquatch? I just came back from driving to the top of the mountain over the weekend and I'll share my three bigfoot encounters with you in the photos below.
Should I Drive My Car Up Pikes Peak?
Are you afraid of heights? Then never do this. Can your vehicle make the climb? Perhaps more important than that is can your vehicle's brakes and engine make it back down the mountain. The Cog Railway offers a one-hour and ten-minute ride to the top for about $60. Several tour groups will also take you to the top for a fee in a variety of vehicles. Ride up in an open-top jeep with lifted seats for one of the best views of your life.
How Many Times Will I See Bigfoot?
If you drive the top yourself you can find at least three different recreations of bigfoot on the mountain. I'm pretty sure there are more than that but I did not get the chance to stop and see them all There is a large statue of Bigfoot at the Pikes Peak North Slope Rec area at Crystal Creek Reservoir, and there are two more large bigfoot statues at the welcome center on the summit.
Make Time for the Devil's Playground
High up near the top of Pikes Peak is the Devil's Playground area. This large open space is another great spot for views, photos, and to get out and stretch. For some, this area is a chance to turn around if the final few miles are too much for your nerves.
Join me for a ride to the top of Pikes Peak by scrolling through the photos below so you know where to find Bigfoot if you get the chance to visit America's Mountain.
Can You Still Find Sasquatch at the Top of Colorado's Pikes Peak?
Visiting Pikes Peak should be in the top five on your Colorado bucket list. There are so many things to do on the mountain that you don't need to summit this 14er to have a blast. Did you know you can still find bigfoot living on America's Mountain even today? Keep going and I'll share how to find him in the photos below.
MORE: Can You Find Bigfoot at Colorado's Sasquatch Outpost in Bailey?
Did you know that Colorado has its own Sasquatch Outpost? Learn everything you ever wanted to know about hunting Big Foot from people who claim to have seen one. Take a virtual tour of the outpost and trailheads near the outpost in Bailey, Colorado.
LOOK: Colorado's Top 10 14er Mountains You Can Summit with the Whole Family
The summer months are a great time to enjoy being in the Rocky Mountains in Colorado. Hiking to the top of a 14er mountain is a great way to create lasting memories with your family. Believe it or not, a handful of Colorado's 14er mountains are easy to summit. Scroll on to see which fourteeners you can conquer with your whole family.