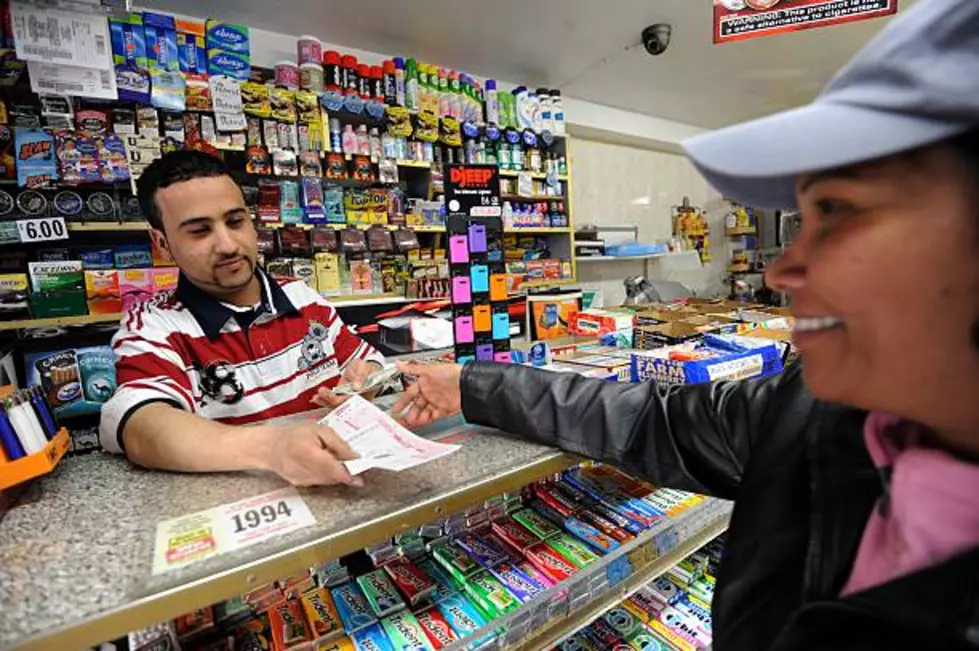 How To Find The Luckiest Places To Play The Lottery In Northern Colorado
AFP via Getty Images
Sure, your chances of winning the lottery are slim - but if you don't play, you'll never have a chance to win.
Whether you play the lottery religiously, on occasion, or perhaps, not at all, now is not the time to pass up on the opportunity to win one of the largest jackpots in lottery history.
Why?
The Powerball jackpot is currently sitting at over one billion dollars (yes, with a B).
How did we get here?
Well, during the last Powerball drawing on Monday, Oct. 3, not a single ticket matched all six winning numbers to claim the preceding $1 billion jackpot.
When the winning jackpot numbers aren't selected in their entirety, the jackpot grows - and boyyyyyy has it grown.
The jackpot for the next Powerball drawing - which happens Wednesday, November 2 at 9 p.m. - is now estimated at a whopping $1.2 billion. 
Wednesday's jackpot has grown to be Powerball's largest prize in more than six years.
Not to mention, if a player wins Wednesday's jackpot, it will be the second-largest jackpot in Powerball history, only behind the world record $1.586 billion Powerball jackpot, the fourth-largest jackpot in U.S. lottery history.
Where To Buy A Winning Lottery Ticket In Colorado
There are many places to buy a lottery ticket in Colorado - but why buy a ticket from just anywhere, when you can buy a ticket from a retailer that has a confirmed reputation of selling winning lottery tickets?
Thanks to the Colorado Lottery, it's never been easier to narrow down your store selection when looking to buy a *winning* lottery ticket.
What Is The Colorado Lottery's "Winning Stores" Tool?
Have you ever wondered how many winning tickets have been sold at your local retailer? It's truly never been easier to find out - that is, thanks to the assistance of the Colorado Lottery's Winning Stores tool.
How to use it: Visit the Colorado Lottery website, and select the "Winning Stores" tab from the "Game Tools" dropdown located on the website's homescreen.
From there, you'll select your game (i.e; Mega Millions, Powerball) then enter a zip code, city, or even a specific retailer location to search.
Prizes reported using the "Winning Stores" tool start at $1,000 — with Pick 3 starting at $250, according to the Colorado Lottery. 
Northern Colorado Stores That Have Sold Winning Powerball Tickets
Using the Colorado Lottery's Winning Stores tool, it was easy to discover how many winning Powerball tickets have been sold here in Nothern Colorado.
In my search, I opted to see what stores have sold winning Powerball tickets in the last 90 days within 25 miles of Fort Collins. Here's what I found:
Now, if you were to change the tool's radius or drawing date range, you'll wind up with additional stores on your search list.
There are several winning stores to buy your lottery tickets from here in Northern Colorado, so why not test your luck today? (I know I'll be.)
Good luck!
THE LUCKIEST SPOTS TO BUY A MEGA MILLIONS TICKET IN NORTHERN COLORADO
Rather than purchasing a lottery ticket from just any random place, press your luck by drawing some numbers at a spot that has a reputation for producing big Mega Millions winners.
Check out the luckiest spots to buy a Mega Millions Ticket in Northern Colorado below:
What NoCo Residents Say They'd Buy If They Won The Mega Millions
We asked you, Northern Colorado - if you won the Mega Millions $830 million jackpot, what is one of the first things you'd buy?
Here's what you said:
Here Is What You Can Buy in Colorado With $1 Billion From Lottery
LOOK: Here is the richest town in each state
Just saying the names of these towns immediately conjures up images of grand mansions, luxury cars, and ritzy restaurants. Read on to see which town in your home state took the title of the richest location and which place had the highest median income in the country. Who knows—your hometown might even be on this list.