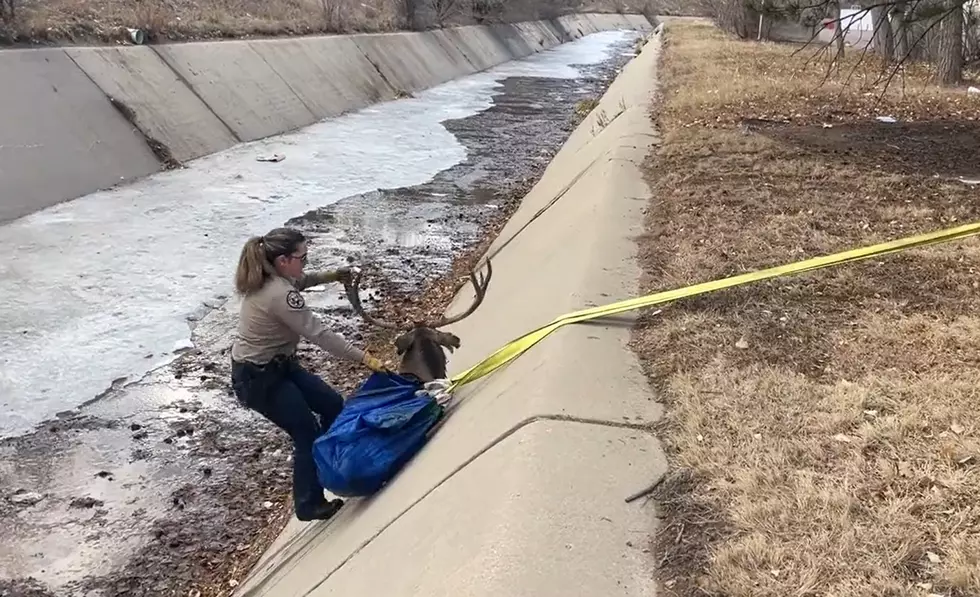 Colorado Parks and Wildlife Rescue a Deer Out of a Drainage Ditch
Colorado Parks and Wildlife Twitter
Oh deer. What happens when a buck decides it would be a great idea to meander into a drainage ditch? Well, first and foremost, the buck is probably going to get stuck. Second, Colorado Parks and Wildlife is probably going to have to come in and rescue the animal.
That is exactly what happened with one deer in Colorado Springs. Colorado Parks and Wildlife swooped in to assist the buck in getting back on its feet and out of the ditch. Colorado Parks and Wildlife officers sedated the buck with a dart and then proceeded to pull the buck out of the drainage ditch with a pickup truck, a heavy-duty tarp, and a tow strap.
Of course, Colorado Parks and Wildlife wouldn't leave us hanging on showing how it's done, so they posted a video on Twitter for the world to see.
Once the sedation wore off, the buck was on its merry way to somewhere other than a drainage ditch.
Colorado Parks and Wildlife say that deer can sometimes walk into the drainage ditches and cannot get out. Especially in the wintertime. Deer are usually darted with sedation in situations where they get caught or stuck in a location and they cannot get free.
Thankfully this drainage ditch deer was not injured in the incident.
Source: Colorado Parks and Wildlife Southeast Region Twitter
These Are The 6 Worst Towns To Raise a Family in Colorado
When it comes to the worst towns in Colorado, these are the top 6.
These Are The Best Places To Live In Colorado In 2022
In October,
Forbes Advisor
released its annual rankings list rounding up the best places to live in the state of Colorado in 2022.
Not only do two Northern Colorado cities rank among the top eight best places to live in the state, but one Northern Colorado city takes the number one spot on the rankings list, officially being named the best place to live in the state of Colorado.
Keep scrolling to learn more about how - and why - each of these Colorado cities earned its ranking. Does your hometown make the list?