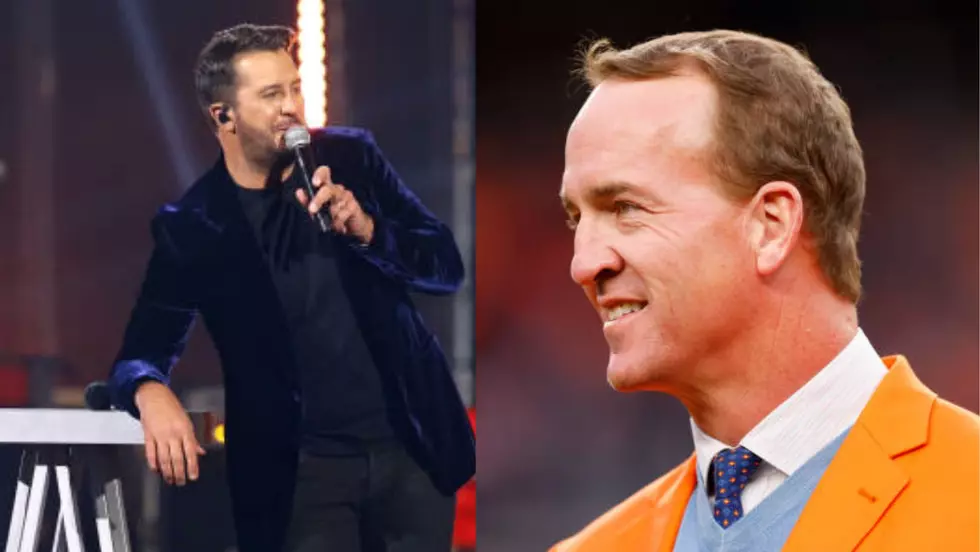 Broncos Legend Peyton Manning Selected To Host 2022 CMA Awards With Luke Bryan
getty images/canva
"The Biggest Night In Country Music" might still be a few months away, but it's already gearing up to be just that... big.
Colorado sports fans (Broncos fans, in particular) might even deem this year's awards show to be bigger and better than ever before.
Why?
On Monday (Aug.1), the Country Music Association and ABC officially announced that country megastar, Luke Bryan would be returning to host the CMA Awards for his second consecutive year, which is set to air later this fall - but he won't be hosting alone.
This year, Luke Bryan will co-host Country Music's Biggest Night, the 56th annual CMA Awards, with NFL legend and former Denver Bronco, Peyton Manning.
The country music star revealed the exciting news Monday morning while guest hosting on ABC's "Live with Kelly and Ryan."
"Being a part of such a historical night that honors my peers and Country Music is such a privilege," Bryan said.
"When I was asked if Peyton Manning was someone I would consider co-hosting with I didn't hesitate. We have become great friends through the years and what he brings to the table is gonna make it even more of a blast.
I know he's been to the CMA Awards before, but he's never been with me. Hey Peyton, I hope you're ready for the night of your life!"
"I cannot wait to head to Nashville and take the CMA Awards stage alongside my friend Luke Bryan," Manning added, in response to the big news now being made public.
"I am such a huge fan of Country Music, so to have the chance to stand among so many incredibly talented artists is an absolute honor."
Peyton Manning signed with the Denver Broncos for the 2012 season. In his second season with the Broncos, Manning led Denver to an AFC championship win, as well as an appearance in Super Bowl XLI.
Before his ultimate retirement in 2015, Manning guided the Broncos to a 24-10 victory over the Panthers for the franchise's first Super Bowl win in nearly two decades.
The 56th annual CMA Awards will be broadcasted live on ABC from Bridgestone Arena in Nashville, TN on Wednesday, November 9.
Final nominees for The 56th Annual CMA Awards will be revealed in the coming weeks, as per CMA officials.
Denver Broncos Forgotten Players
Broncos Release Full 2022 Schedule Featuring Five Primetime Games