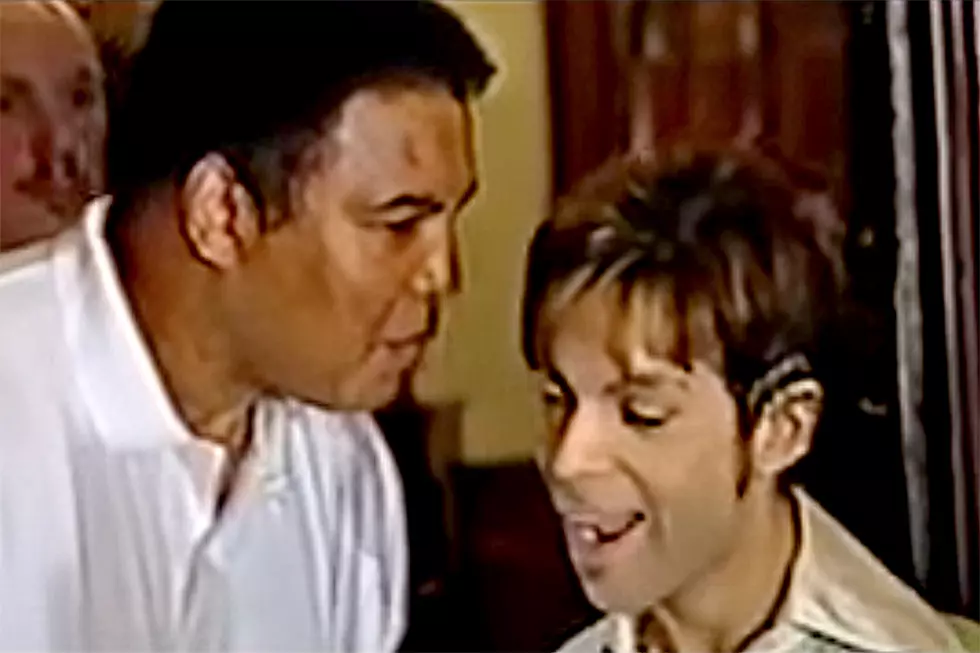 When Prince and Muhammad Ali Taught the World a Lesson
YouTube
When Muhammad Ali wanted to meet Prince, the man who made it happen thought it was a "long shot" – but that's because he could only guess at how much the boxing icon meant to the musician.
The moment took place in 1997, just 48 hours after David Clark, who worked on Ali's World Healing Project, had placed a call to Prince's people. When the pair first set eyes on each other in the Hay-Adams Hotel in Washington, D.C., years of mutual admiration immediately became apparent.
It wasn't just that both shared a passion for fighting bigotry, which was the aim of the campaign. They'd both also changed their names. Prince was then known as The Artist as a result of his battle with Warner Bros., during which he described himself as a "slave," while Ali had abandoned his birth name of Cassius Clay, calling it his "slave name" and saying he wanted nothing to do with it upon his conversion to Islam in 1964.
On top of that, Clark told the BBC in 2016: "Muhammad seemed to know Prince's music, and from what I understood, when Prince was getting hassled as a young man in Minneapolis, he used to point to the baddest man on the planet being black – Muhammad Ali."
He added: "We'd known it was an incredibly, incredibly long shot to get someone like him to say 'Yes' and travel on his own dime at such short notice. There was a knock on the door, and there was the Artist with his security guard. He had a look of amazement on his face. He saw Muhammad at the same time Muhammad saw him, and Muhammad said, 'Prince!'' The boxer's daughter stepped in, saying: 'His name is The Artist, and you have to call him the Artist – or I will get him to call you Cassius Clay."
That seemed to dispel any remaining doubt. "Prince almost jumped into his arms," Clark reported, saying that they "bonded over magic" and explaining: "Muhammad told Prince he wanted to show him a special trick – Muhammad then got up and pretended to levitate. Prince said, 'That's nothing!' and jumped up on the table and pretended to be doing the same trick. They were like two kids. These were two men who were trailblazers. The 'authenticness' of each impressed the other."
The warmth between them is obvious in TV footage from the hotel. "My friend… called me a couple of days ago and asked me," Prince told the press. "He said, 'Muhammad wants you to –' and I said, 'Yes!' I didn't even let him finish. He could have said, 'Mow the lawn,' and I would have been down with it. Muhammad's my hero. He has been since I was a child." He added that he was "honored" to find himself beside Ali, arguing that the boxer had become "part of all of us" via the World Healing Project.
Ali died in June 2016, two months after Prince's passing. The boxer had paid tribute to his friend, saying: "We've lost a true original. Prince was someone who cared for others and used his genius to help many."
Clark believed that the story of the pair would live on, saying: "It's my hope that they will not only inspire but ennoble and point the way for other people to follow their own path. It can be rough sometimes, but in the end, it pays off. And a kid can look up to them and know it's okay to be different."
Prince Meets Muhammad Ali
Who Played With Prince the Longest?