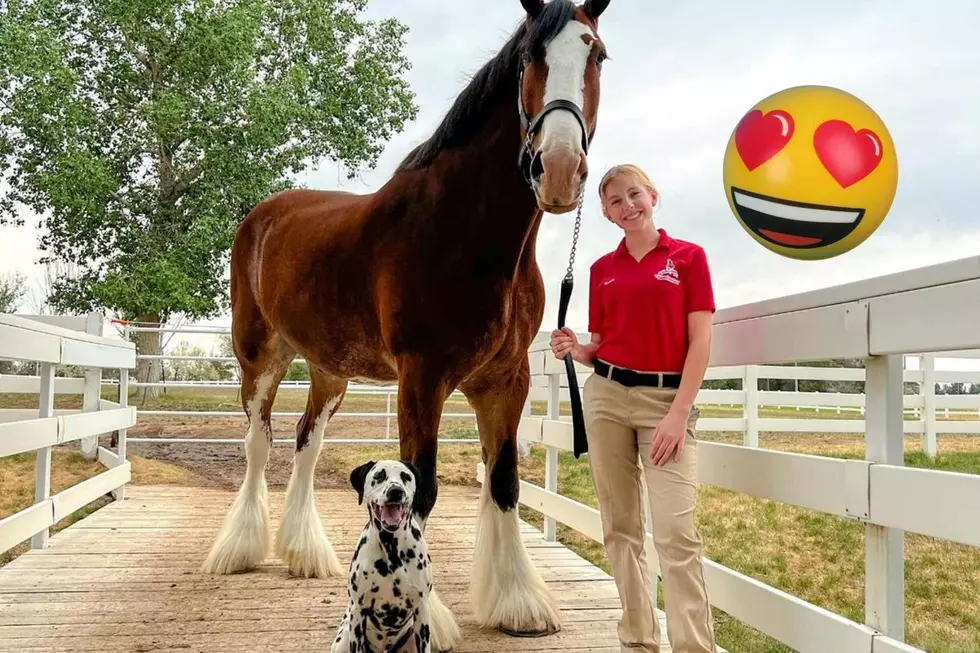 Take Your Picture With the Budweiser Clydesdales in Fort Collins July 8
Facebook/Budweiser Clydesdales
The weather should be great for getting some great photos with the Clydesdales ton a summer day. Make plans to be there for the two-hour session.
No reservations are required to get up close to the Budweiser Clydesdales West Coast Team for their upcoming Camera Day at the Biergarten. Some folks go EVERY time that that are in town. it will be a beautiful summer day for photos with family and friends and the majestic animals.
You can get out The Biergarten early for a beer before the two-hour session begins. You may want to wear comfortable shoes and prepare to wait in line for a while, especially with it being the week of July 4, when people have an assortment of friends and family visiting.
When you see these giant, majestic animals up close, it can be a bit overwhelming. I know that I felt very, very tiny in their presence, when I did my Camera Day. When you see little kids next to the horses, it's really amazing.
America first saw the Budweiser Clydesdales was on April 7, 1933, to celebrate the repeal of Prohibition, at a special celebration in St. Louis. All Budweiser Clydesdales must be at least four years old and stand at least 18 hands high (72 inches.)
CAMERA DAY WITH THE CLYDESDALES IN FORT COLLINS
Friday, July 8, 2022
5 p.m. until 7 p.m.
Biergarten will open at 4 p.m. and close at 8 p.m.
Maybe, on your visit, you can find out the name of the Dalmatian for the West Coast's team's hitch, that would be something fun to know.
More On Fort Collins Beer: The Dog Friendly Breweries
These Fort Collins breweries allow guests to bring their dogs along.
More Amazing Horses: The Wild Horses of Sand Wash Basin in Colorado
Look at these amazing pictures of the wild horses of Sand Wash Basin in Colorado. There are 900 horses that live on the 160,000 acres of the Sand Wash Basin.