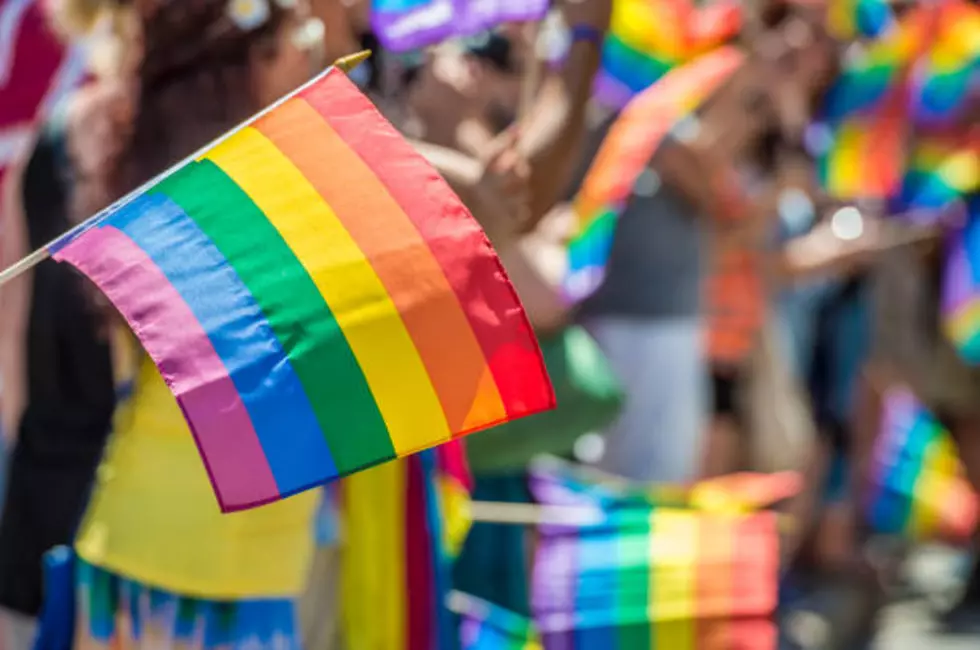 Pride Festivities Could Soon Be Banned In This Colorado County
Getty Images
A wardrobe malfunction during a Pride celebration over the weekend is at the center of a heated debate regarding the future of celebrating gender equality in one Colorado county.
Last weekend, Castle Rock Pride, a non-profit organization committed to building a supportive community in the Castle Rock and greater Douglas County areas for LGBTQ+ residents, put on their annual Douglas County Pridefest (Aug. 27).
The event, which took place at the Douglas County Fairgrounds last Saturday night featured live performances; during this year's Pridefest, an acrobatics performer had been reportedly swinging from a hoop-like trapeze when fake silicon breasts suddenly became uncovered in front of a crowd of people of all ages.
While many might've seen the situation as an honest mistake - or a simple wardrobe malfunction -others certainly did not take what had happened lightly.
"I do believe we had a violation of zoning uses for the Fairgrounds this weekend," Douglas County Commissioner Commissioner George Teal wrote in a Facebook post on Monday night (Aug. 29).
"Exotic adult entertainment is not an allowed use at the Fairgrounds. Doesn't matter if accidental (as asserted by this weekend's event organizers) or a group of Military Veterans having a party where a scantily clad young lady jumps out of a cake... It's just not allowed at our publicly funded Fairgrounds."
As a result of the incident, the commissioner is now fighting to ban the annual Pridefest from the county fairgrounds in the future.
"Given this Zoning Violation, and our current rules of use that require all users of the Fairgrounds to follow all applicable laws and regulations, I do believe I have a second vote to ban the return of Pridefest in the future.
There is substantial evidence the organizers allow, or at least are unable to prevent, participants from performing acts of exotic adult entertainment.", the Facebook post reads.
Castle Rock Pride Responds
In response to the backlash following Saturday night's wardrobe malfunction at the 2022 Douglas County Pridefest, Castle Rock Pride released the following statement:
"As with any live event as millions of Americans have seen on Super Bowl Sundays and with mega pop star performers, there always is a risk of the unexpected on a live stage. This single incident should in no way tarnish the reputation or future of the Douglas County PrideFest.

 

Through these events, Castle Rock Pride strives to build positive networks of support and inclusion, promote equality, and foster acceptance and diversity."
To read the group's full statement/apology regarding the events that transpired during this year's Pridefest, click here.
A County Divided
While Douglas County Commissioner George Teal has been undoubtedly vocal about his stance on what occurred during this year's Douglas County Pridefest, some say this is not the first time Teal has made his lack of support for the LGBTQ+ community known.
"Commissioner Teal has been targeting the LGBTQ+ community for more than six years," Jesus Angel, a member of the Douglas County LGBTQ+ told KDVR.
"It's completely being blown out of proportion and George Teal is using his power to silence people that are in my community by trying to shut down the PrideFest here in Castle Rock," Angel said.
Heather Gonzales one of Douglas County's PrideFest founders also had some powerful words to use to describe Teal's stance when it comes to this particular community:
"Teal is homophobic and has an agenda in the LGBTQ+ community... This is nothing more than a blatant attack on the community."
When considering the other county commissioner's stances on the situation, KDVR reported that Commissioner Abe Laydon did not say if he would be for or against the ban in a Facebook post, while Commissioner Lora Thomas said she would not make a decision on a ban until all facts and evidence are in.
Other Community Supporters + Opponents React To Douglas County Pridefest Incident
Among many sharing their opinions about the recent incident at this year's Pridefest - according to CBSNews - is Andy McNulty,  a civil rights attorney who successfully fought a topless ban for women right here in Northern Colorado (Fort Collins, to be exact).
He says in this particular case, there's no legal basis for indecency or zoning issues, but if commissioners ban future pride events it would violate the 1st amendment, as well as the 14th amendment's equal protection clause.
"The idea that someone wearing a costume at a pride event could lead to a zoning violation for exotic dancing is just so farcical it's beyond comprehension," McNulty said.
"I hope they don't take this action, but if they do, I'm sure that they will be in federal court pretty soon."
Colorado's Counties Large to Small
We break down all of Colorado's counties from largest to smallest based on land size.
LOOK: The 10 Most Affordable Places To Live In Colorado
People often choose to move to a particular area in order to live a certain way.
Colorado is unique in that, residents here have the ability to live different kinds of lifestyles (depending on what part of the state you choose to reside) - from small-town to big-city living, you can make up almost any life you desire here... but can you afford it?
Keep scrolling to find out where the most affordable places to live in Colorado in 2022 are, according to
HomeSnacks
:
LOOK: These Are The 25 Richest Places In Colorado
Did you know that a small Northern Colorado town currently holds the title of the richest place in all of the state?
But that's not all... keep scrolling to check out the top 25 richest places in Colorado in 2022: