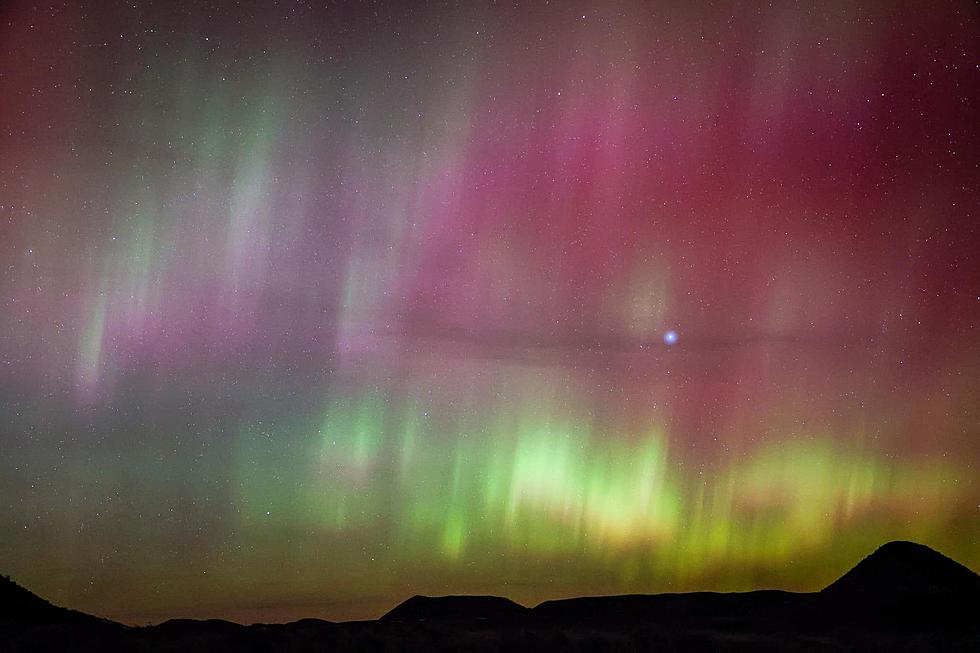 PHOTOS: Wyoming Photographer Shares Breathtaking Pictures of Northern Lights
Breanna Klamm Whitlock
One of the best parts about living in Wyoming is that when there are naturally beautiful phenomena in the sky, we're usually able to see it. Some of us are even able to capture it in a photograph.
Such was the case with Wyoming photographer Breanna Klamm Whitlock. Whitlock was one of the many individuals who saw the Northern Lights and wanted to capture them in all of their stunning glory.
"So we started the night in Ten Sleep visiting family," Whitlock told K2 Radio News. "I had been getting alerts all day so I brought my camera with me. We went out about 8:30 p.m., but the clouds over the Bighorns were so dense nothing was visible. I quickly packed up everything and we headed towards Buffalo over the Bighorns."
Whitlock said that once they got to the Powder River Pass, the peaks to their north were 100% visible, so they pulled over and she started taking photos.
I kept seeing a gray cloud directly above and kept commenting that the lights were so bright the clouds were lit up. After driving to a slightly better spot my husband said he didn't think that streak was a cloud. So I took a photo of it to test it and  boom there were colors! That streak ended up being STEVE."
Steve, according to Space.com, is a celestial phenomenon which looks like an aurora, but it's not actually that.
"STEVE, formally known as Strong Thermal Emission Velocity Enhancement, is different," Space.com wrote. "In the Northern Hemisphere, the phenomenon is visible from areas farther south than a typical aurora, and it looks like a ribbon of pink or mauve light. Sometimes, STEVE even has a 'picket fence' appearance, with green columns of light passing through the ribbon."
That is what Whitlock saw and she was dazzled.
"Standing at the summit was breathtaking," she said. "The lights were bouncing above the trees and reflecting off the snow. We stayed out until the dancing died down and they were just a green haze."
Whitlock said that eventually they had to go home and put her toddler to bed. Then, she went back outside to get more photos.
"When I first got there it was just the green haze but my phone kept telling me that the KP was an 8 and within 15 minutes the pillars came back and the next 2 hours were the most beautiful lights I've ever seen," she exclaimed. "I had to physically turn and keep turning to see all the lights. The went from the horizon way up above the Big Dipper which is very high in the sky at 1am. They were dancing and pulsating."
It wasn't just the sights of the Northern Lights, either. It was the sounds as well.
"I kept hearing crackles," Whitlock revealed. "I though my phone was wigging out but after a minute I realized it was the lights. Every time there was a bright pulse they crackled."
It was the experience of a lifetime, and Whitlock said it's something she will never forget.
Wyoming Photographer Shares Breathtaking Pictures of Northern Lights
Various Casper Photographers captured the beauty of the Northern Lights on March 23, 2023.