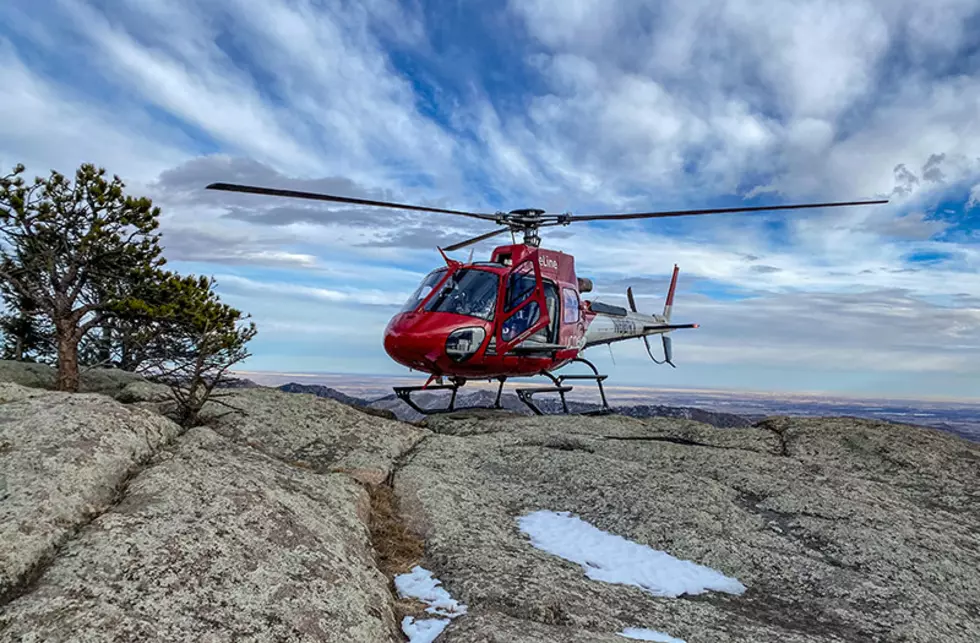 Northern Colorado Hiker Saved By Helicopter On Greyrock Mountain
Courtesy of UCHealth
A 71-year-old man who injured himself while hiking Greyrock Mountain is grateful to be alive and recovering following an impressive helicopter rescue by UCHealth LifeLine medical workers.
Phil Sheridan is no stranger to hiking; in fact, he has hiked to the summit of Greyrock Mountain in Arapaho-Roosevelt National Forest multiple times before. Although, the hike he took on January 7 turned out to be nothing like his prior experiences.
For Sheridan, the pristine views of Northern Colorado and Poudre Canyon from the summit of Greyrock Trail are worth every step of the challenging 3.1-mile hike.
According to the story from UCHealth, Sheridan and his hiking companion basked in the views from the summit for only a short time before choosing to head back down to meet with a third hiker who was waiting in a meadow about a mile below.
Phil Sheridan was cautiously navigating his way down the steep, rocky terrain when his left foot suddenly hit a patch of ice about 300 yards below the summit.
"It was so small I didn't even see it, but it was enough where I lost traction and my right foot caught behind me on the rock," Sheridan said.
As his left leg slid forward, his backend reportedly fell onto his right heel. He reached out to try and brace his fall, which caused him to jam his arm against another rock. He then slid down another two feet, catching his front leg against a tree to stop his slide.
At this point, Sheridan shouted out to his friend that he was hurt.
"It's the weirdest sensation when you tell your body to move but it just won't," Sheridan recalled a few weeks following his accident. "I was really in excruciating pain — I'd finally reached that 10 on the pain chart."
Lying in the embrace of his own excruciating pain, Sheridan and his hiking companion pulled out their cell phones and, to their surprise, had service. They were able to contact 911, and a search and rescue crew was immediately deployed.
As a long-time volunteer ranger at Rocky Mountain National Park, Sheridan knew the location of where he'd fallen wasn't ideal, in terms of the amount of time it was going to take for crews to reach him.
He was lying three miles from the trailhead and parking lot, which was 30 minutes from Fort Collins off of State Highway 14, and knew rescue crews wouldn't be there anytime soon.
While he waited, Sheridan called dispatch to provide the rescue crew with more information. Luckily, the injured hiker was able to provide the crew with his exact location using his portable GPS unit.
As the sun began to set, Sheridan was worried about nightfall potentially posing an issue for rescue crews to reach him. The search and rescue commander seemed to have had similar concerns, as he called UCHealth LifeLine, a medical transport helicopter, to see if they could get to Sheridan first.
In most "search and assist" cases, search and rescue teams have already arrived on the scene and assessed the patient, before requesting the medical helicopter for quicker extraction - but Sheridan's case was different.
"I could hear the helicopter coming," Sheridan said. "They did several circles looking for a place to land and the only place they could find near me was on the edge of a cliff about 100 yards above me."
The crew reportedly circled before identifying a safe and stale landing position on the mountain's ledge.
"To be honest, everything lined up for Phil," UCHealth LifeLine pilot, Erin Norton said. "I wouldn't have landed there had there been wind. I wouldn't have landed there had I not done previous landings like that. And I wouldn't have landed there with all my crew members — I had my two lightest members with me that day."
After reaching Sheridan and assessing his condition, two LifeLine crew members began extracting him. With a webbing strap under Sheridan's arms, the two crewmen - with help from Sheridan's 73-year-old hiking companion - slowly inched the injured hiker up the rocky terrain to the stretcher located 100 feet from the helicopter.
Two young hikers who were coincidentally within distance also assisted in getting Sheridan in the helicopter, where he was then transported to UCHealth Poudre Valley Hospital - about a 10-minute helicopter ride.
Phil Sheridan suffered a ruptured quadriceps tendon and was scheduled for surgery on his leg a few weeks following the accident.
Sheridan currently has a cast that stretches the length of his leg and spends most days resting in a medical bed in his living room. Once his cast is removed in a few weeks, he'll start physical therapy.
Then, he'll return to Poudre Valley Hospital in a few weeks for surgery to repair the severed and torn tendons in his shoulder and to partake in physical rehabilitation.
Despite the pain, doctor visits and immobilization, Sheridan knows it could have been much worse. He keeps a written list of all the miracles that occurred on that January afternoon, which keeps him feeling grateful.
"I have a list of God's miracles and there are 19 on it," Sheridan said. "First, having cell phone range, having my GPS on me, that pilot making that landing and then these two hikers."
After four miracles in the course of a few hours, he counts miracle No. 5 as this:  The on-call orthopedic surgeon that day at PVH just happened to be his wife's cousin.
"When it's you, you understand how caring (health care workers) are — they really care about you and your well-being," Sheridan said. "They kept saying, 'We are going to help you manage through this; we are going to help you off this mountain.' And the skill — you can tell these guys are so skilled.
"I'd love to tell them thanks."
The 6 Most Difficult 14ers In Colorado