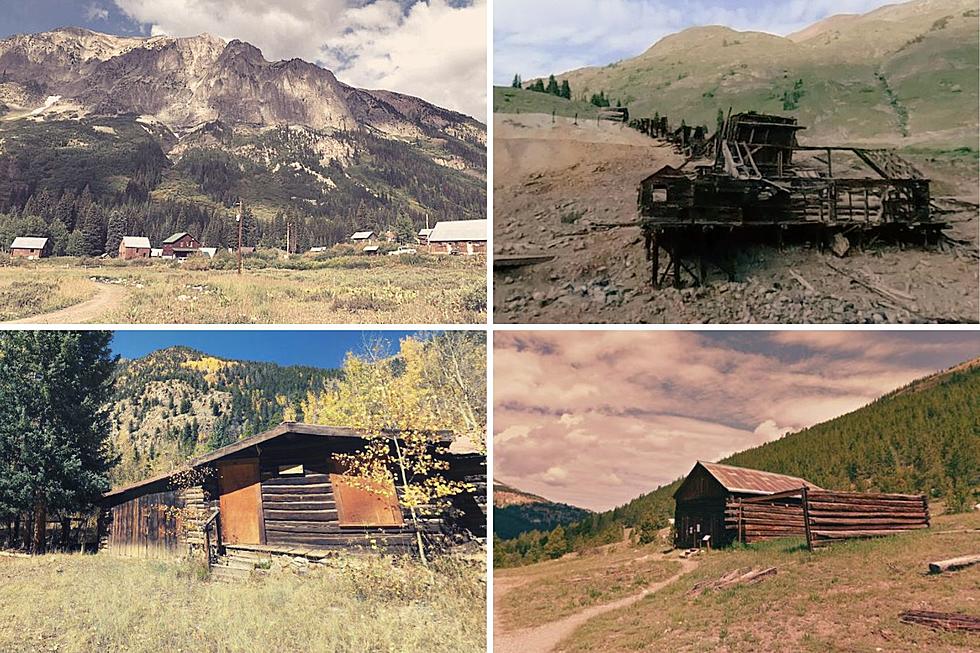 Colorado Has Over 300 Ghost Towns — Here Are the Most Popular
Instant Street View, Canva
Colorado is no stranger to the spooky.
Along with haunted hotels and creepy crime scenes, the Centennial State is also home to more than 300 ghost towns — 314 ghost towns, to be exact, according to new research from BetColorado.com.
Despite the name, ghost towns aren't necessarily scary. They're typically just towns abandoned for economic or other reasons, but it can be fun to think they have paranormal possibilities.
In that spirit (no pun intended), BetColorado.com analyzed search data to find the most popular ghost towns in the U.S. Here's what they learned about Colorado.
The Top 10 Most Popular Ghost Towns in Colorado
1. Crystal | Gunnison County
Uncover Colorado reports that Crystal still has standing buildings and relics from the area's mining days. Its remote location led to its abandonment.
BetColorado.com says that nearly 65,000 people search for it each year.
2. Gothic | Gunnison County
Western Mining History notes that Gothic's mineral deposits allowed it to thrive in the late 1800s, but by 1928, the town only had one resident.
The town garners around 35,000 searches every year.
3. Independence | Pitkin County
According to the Aspen Historical Society, Independence was "the first mining site in the Roaring Fork Valley." The area is now an archaeological preserve.
Around 35,000 people search for the town each year.
4. Silverton | San Juan County
While Silverton earns "ghost town" status due to its former mining days, Colorado.com reports it's now a frequented National Historic Landmark District.
Like the previous two towns, nearly 35,000 people search for it annually.
5. Tomboy | San Miguel County
Visit Telluride states that Tomboy was a hoppin' mining town until its ore ran out in 1927. Today, it offers old buildings and mining features to explore.
BetColorado.com says that over 15,000 people search for it every year.
6. St. Elmo | Chaffee County
Like many ghost towns, St. Elmo was a mining hotspot until its train tracks shut down in 1922. Three people live there today, and visitors can hand-feed the town's chipmunks.
More than 10,000 people search for St. Elmo yearly.
7. Animas Forks | San Juan Country
According to Uncover Colorado, Animas Forks houses various structures from the 1800s that call back to the town's booming mining era.
The town receives over 7,000 searches each year.
8. Ashcroft | Pitkin County
AllAspen.com reports that Ashcroft was home to saloons, newspapers, schools, and courts during the late 1800s. Visitors can see remnants of the town today.
BetColorado.com determined the town gets nearly 5,000 searches per year.
9. Ironton | Ouray County
Legends of America notes that Ironton currently has 12 structures that serve as memories of the area's gold and silver mining eras. It's also known for cross-country skiing.
Almost 4,000 people search for the town every year.
10. Vicksburg | Chaffee County
The Next Summit reports that, like Colorado's other ghost towns, the people of Vicksburg mined gold and left when it ran out. Some residents are still there, and the area has an operational museum.
About 3,840 people search for Vicksburg each year.
---
Learn more about Colorado's ghost towns in the gallery below.
Alphabetical Tour of Colorado's Ghost Towns
There are over 300 ghost towns peppered throughout the state of Colorado. Some of these towns are very well preserved with a few residents. Others are completely abandoned with very little left to explore. Regardless, venturing through one of these towns will give you a look into Colorado's rich mining history.
How Many in America: From Guns to Ghost Towns
Can you take a guess as to how many public schools are in the U.S.? Do you have any clue as to how many billionaires might be residing there? Read on to find out—and learn a thing or two about each of these selection's cultural significance and legacy along the way.