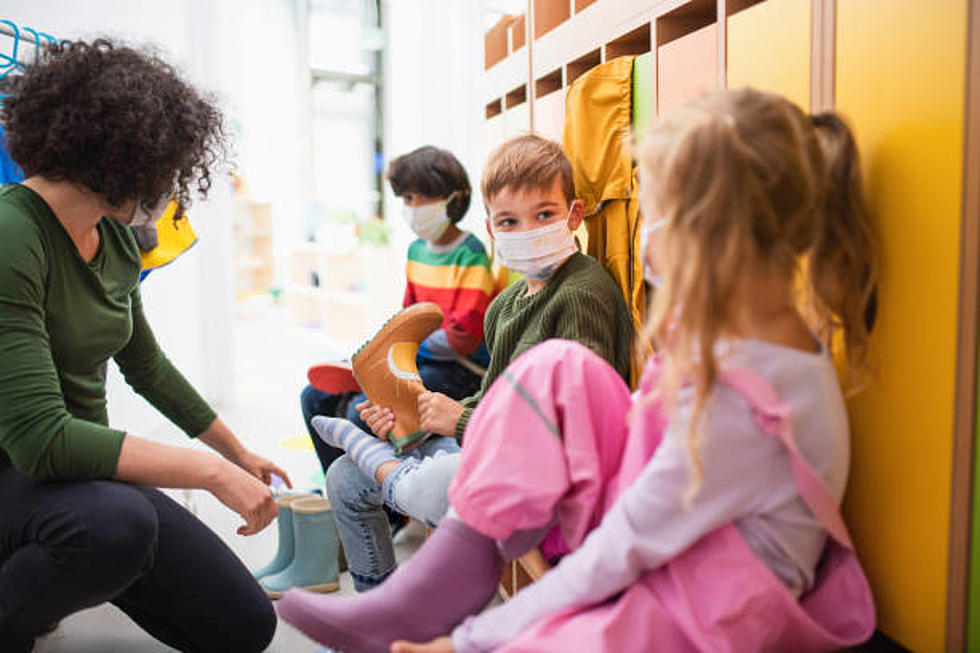 Greeley-Evans School District 6 BOE Approves New Mask Mandate
Getty Images
As students and staff from Greeley-Evans District 6 schools make their return to their respective classrooms this week - after making the shift to remote learning earlier this month - the Greeley-Evans District 6 Board of Education has just approved a new mask mandate based on updated COVID-19 positivity rates.
At the Greeley-Evans District 6 Board of Education meeting Monday night (Jan. 24), board member Kyle Bentley proposed that the district instate a mask requirement for non-charter school students and staff in pre-kindergarten through eighth grades.
The requirement involves using a 5% positivity rate or greater metric for said schools and buildings to then switch to masks for five school days, according to the Greeley Tribune. 
This particular mandate is one Bentley had been considering, in regards to this ongoing mask issue, since he was elected to the Greeley-Evans District 6 Board of Education in November 2021.
"We had to get something everybody was comfortable with," Bentley said. "With 5% (positivity rate standard), I hope we can flatten the trajectory and keep kids in schools."
The amended mask requirement goes into effect Monday, Feb. 7.
Greeley-Evans District 6 Reacts To New Mask Mandate
After a four-hour meeting amongst the board - which took place in the district's administrative building Monday night - Bentley's proposed mask requirement was passed following a 6-1 vote; Terri Pappas was the only board member to oppose the mask requirement.
Although the mandate was passed, several voices were heard from people who opposed a mask mandate of any type. Late in the meeting, the board heard the uproar from several district residents who expressed strong opposition against masks - or suggested that the option of personal choice should be allowed.
According to District 6 superintendent Deirdre Pilch, as of Monday night (Jan. 24), three buildings in the district would meet the 5% COVID-19 threshold - the basis of the new mask mandate.
On Monday, Evans had a 14-day positive case rate of 34.8, which was one of the highest rates in Weld County according to data on the Weld County Department of Health website.
The 14-day case rates for Greeley zip codes 80634 and 80631 were also high on Monday, standing 34 and 31.7, respectively. The 14-day rate for Greeley's 80639 zip code was among the lowest in the county, standing at 2.6 on Monday.
According to the District 6 website, twenty-four students in three schools were quarantined as of Monday (Jan. 24). Students at Jefferson Junior High and University Schools will meet remotely through the end of this week.
For the latest information regarding COVID-19 and mask mandates for Greeley-Evans District 6, visit the district's website here.
Here Are the 5 Safest Materials For Homemade Face Masks
UP NEXT: 5 Things That Are Getting Us Through This Pandemic