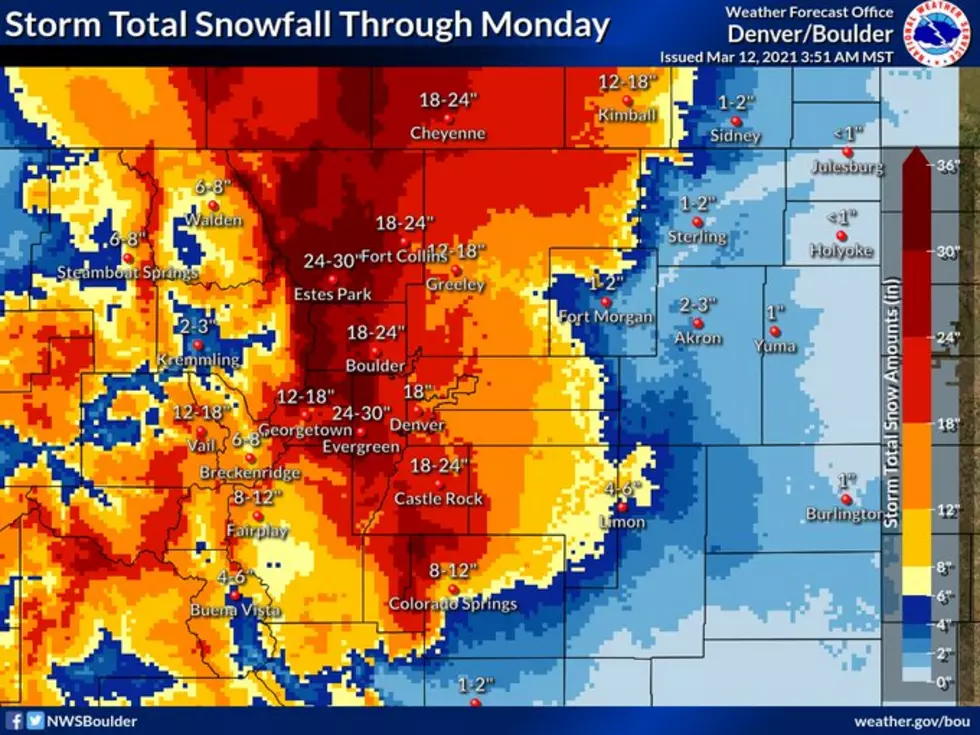 Friday Snow Forecast Update: 18-24 Inches Predicted For Fort Collins
National Weather Service
Denver 7 Chief Meteorologist Mike Nelson, says that we are 'going to get it' with this March snowstorm, which will be a 'major' event for the area.
You can't say that we haven't been warned when it comes to what I, personally, have named 'Snow, Man 2021.' The weather services have been issuing statements since Monday about Saturday and Sunday's heavy amounts of snowfall.
Though, looking at the forecasted totals, it looks like Greeley will get off relatively easy. Fort Collins, meanwhile, is now expected to get 18-24 inches in a Friday morning National Weather Service update.
I asked Mike Nelson when he thinks that the Fort Collins area will say, 'Oh, yeah... here it comes..'
Daybreak on Saturday.
Which is just when our Winter Storm Watch will be upgraded.
A WINTER STORM WARNING will go into effect at 5 a.m. on Saturday, March 13, 2021. 
Action Recommended

Make preparations per the instructions

Issued By

Denver/Boulder - CO, US, National Weather Service

Affected Area

Fort Collins, Boulder and the western suburbs of Denver, Denver, Castle Rock, and Greeley

Description

...WINTER STORM WARNING REMAINS IN EFFECT FROM 5 AM MST SATURDAY TO 6 AM MDT MONDAY... WHAT...Heavy snow expected. Total snow accumulations of 12 to 24 inches expected, with locally heavier amounts possible near Boulder and Fort Collins.

Winds could gust as high as 35 mph. WHERE...Fort Collins, Boulder and the western suburbs of Denver, Denver, Castle Rock, and Greeley. WHEN...From 5 AM MST Saturday to 6 AM MDT Monday.

IMPACTS...Travel could be very difficult to impossible.

ADDITIONAL DETAILS...Finish preparation for this storm today. Conditions will deteriorate Saturday as the storm arrives, but the most severe conditions will likely hold off until Saturday evening. PRECAUTIONARY/PREPAREDNESS ACTIONS... If you must travel, keep an extra flashlight, food, and water in your vehicle in case of an emergency. The latest road conditions for Colorado can be obtained by calling 5 1 1 or by going to www.cotrip. org
It'll be very interesting to see how things look on Monday morning. Most schools will be on Spring Break next week; are you making plans to not go anywhere on Monday, too?
MORE: Some of the Memes & Tweets That Have Made Us Laugh (and Maybe Think)