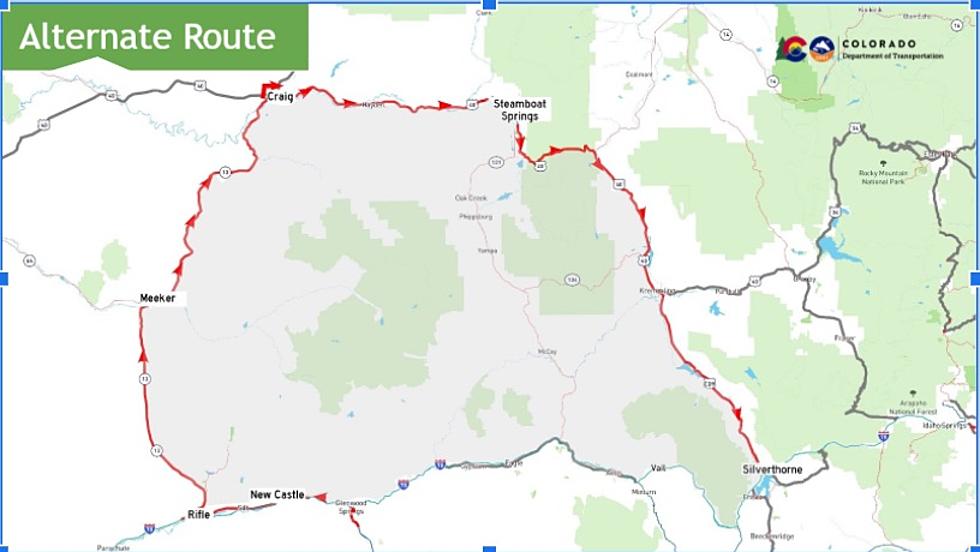 Flash Floods Could Close I-70 In Glenwood Canyon… AGAIN.
Colorado Department of Transportation
Yes - you read that correctly.
According to the Colorado Department of Transportation (CDOT), motorists should be prepared for another potential closure of Interstate 70 through Glenwood Canyon due to heavy rainfall that could potentially trigger flash floods, mudslides, rockfall or other hazards to travelers on Tuesday (June 29).
As of approximately 8:15 a.m. Tuesday morning, CDOT reported that they had closed both the Grizzly Creek and Shoshone Power Plan rest areas, as well as the Glenwood Canyon recreation path due to a Flash Flood Advisory for the Grizzly Creek burn scar.
As per a Tuesday morning news release from the Colorado Department of Transportation, CDOT crews will be on standby throughout the day, following the same procedures as they would during a Flash Flood Watch.
Should a Flash Flood Warning be issued for the Grizzly Creek burn scar, CDOT will close I-70 in Glenwood Canyon and clear the canyon of traffic. If there is an I-70 closure that is anticipated to last longer than an hour, CDOT will direct motorists to use the recommended northern alternate route, which you can view here.
WESTBOUND I-70: Motorists coming from the Denver metro area or Interstate 25 can travel westbound on I-70 to Silverthorne, then turn north onto CO 9. In Kremmling, travelers should turn onto westbound US Highway 40 towards Steamboat Springs. After reaching Craig, motorists can return south via CO 13 towards Rifle. Access to I-70 westbound is at Rifle.
EASTBOUND I-70: Motorists traveling eastbound from Utah or Grand Junction can reach the Denver Metro area by traveling the route above in reverse.
What a messy last few days it has been along I-70 in Glenwood Canyon.
Over the weekend, the same section of the interstate was shut down for several hours after a massive mudslide from the Grizzly Creek Fire burn scar buried the road near the No Name Exit. Both eastbound and westbound lanes reopened around 10 p.m. Saturday night, before being closed again on Sunday due to another mudslide in the area.
By Monday afternoon (June 28), eastbound traffic had been allowed back along I-70 in Glenwood Canyon, while westbound traffic continued to be restricted as crews worked to clear mudslide debris from westbound lanes. Westbound lanes were initially thought to reopen mid to late evening Monday night.
According to CDOT, there are several precautions to take when approaching a flooded area on the road, including:
Never drive through any flooded area, as you do not know how deep or how fast the water is running.
Never use your cruise control during rainy conditions with standing water on the roadway; driving too fast on wet roads or in flooded areas can cause a vehicle to hydroplane
If you cannot see the roadway, be smart and wait for the water to subside; any amount of flooding or mud can obstruct the roadway and hinder drivers from knowing exactly where to drive
For the latest traffic and travel reports, visit cotrip.org. 
9 Signs You Know You Are From Colorado