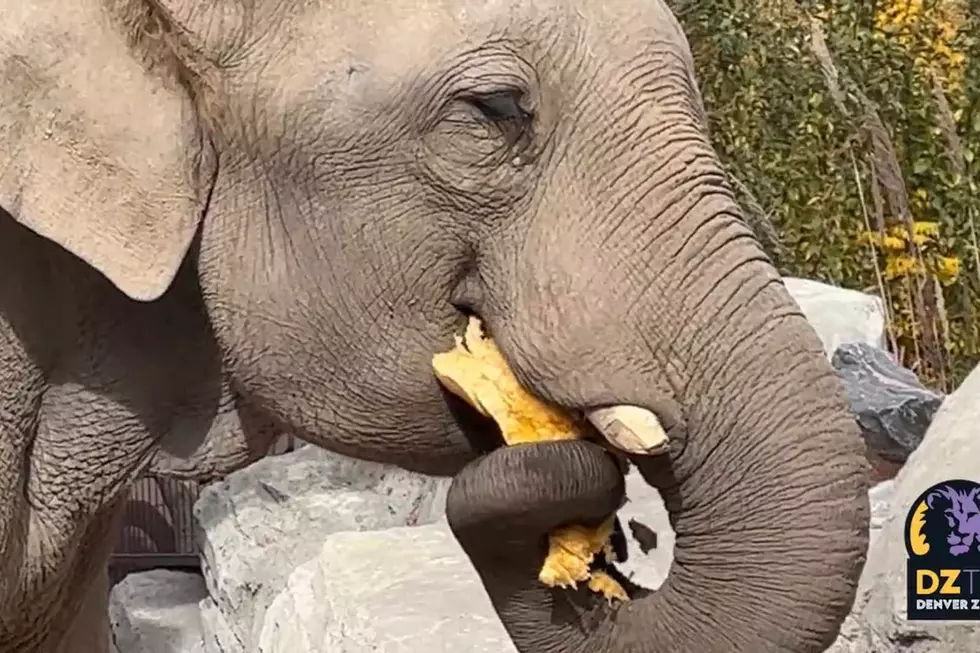 Two Elephants Literally Wave at Person at Colorado's Denver Zoo
Twitter/DenverZoo
It's not the kind of thing you would expect from animals that weigh more than 7,000 pounds, but there's video to prove it.
You might recall that a couple months ago, a new nine-year old elephant was brought to the Denver Zoo from Houston. His name is Duncan, and he's feeling right at home in the "bachelor herd" of Endangered Asian elephants at the zoo.
He's made fast friends with Jake, a 13-year old who is one of the other five bachelors in the herd.
Duncan loves cantaloupes and alfalfa hay, in addition to swimming around in the mud, especially when it's raining. All the rain we've had must have Duncan in a good, social mood because a few weeks ago during a training session, one of the curators at the zoo realized that Duncan - and also Jake - had a unique talent they had never before displayed.
The wave back at people! Check out this tweet from the Denver Zoo, with video of Jake and Duncan waving back at a zoo employee - with their trunks!
Duncan and Jake are part of a larger herd of bachelors - six elephants in total - led by the senior member and mentor of the group, Groucho. Wonder if Groucho waves too, or if he just scowls and looks away with a grunt? Surely he had to get that name somehow.
You can catch Duncan in the area of Toyota Elephant Passage, directly east of the Clayton F. Freiheit Elephant House. For more information about the Denver Zoo's elephant exhibit or to book your visit, you can visit their website.
15 Adorable Animals at Colorado Zoos That Are Waiting to Meet You
All of these absolutely adorable animals all live in zoos or sanctuaries in Colorado. Meet the 15 adorable animals at Colorado zoos that are waiting to meet you.
Look: Lions at Denver Zoo Prove That All Cats Love Boxes
Look at the lions at the Denver Zoo playing with a ton of boxes. These pictures of Denver Zoo lions prove that all cats love boxes.