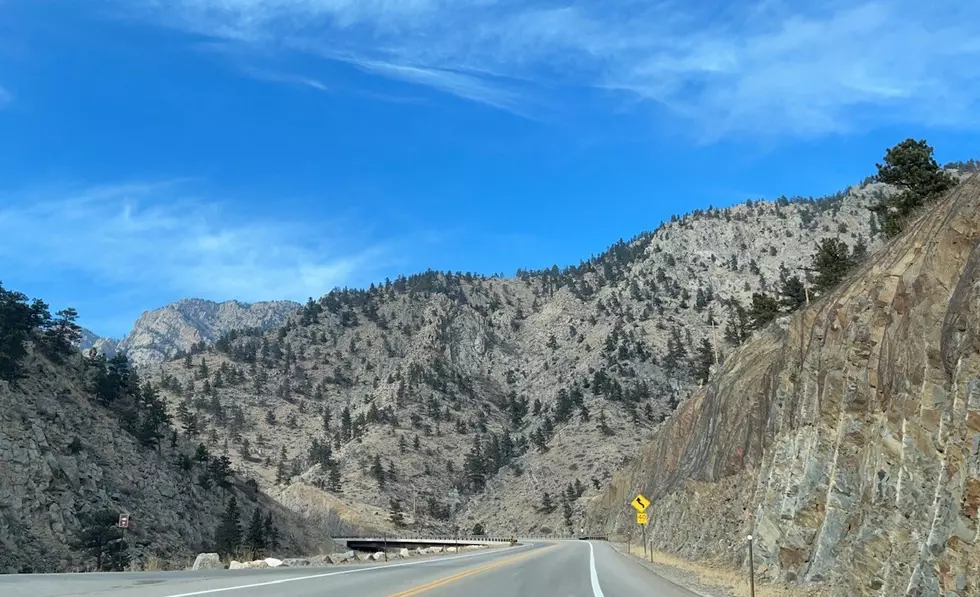 Ever Wonder What That Huge Pipe Over US-34 West of Loveland Does?
Maxx/TSM
We've all seen it. We've all driven under it. We assume it's filled with water. But what exactly does that huge pipe - just west of the Dam Store, as you head into the mountains west of Loveland on Highway 34 - do?
I'd never really thought much about it either. I just know it immediately when I see it, whether on the news or even in a few movies. And as I actually drive under it - usually on my way to Estes Park - I always mark it in my head as the unofficial beginning of the canyon drive.
Here's what I didn't expect. That pipe fills Horsetooth Reservoir. It's part of what's called the "Charles Hansen Feeder Canal" which is part of a larger project called the Colorado-Big Thompson Project, one of the largest, most complicated and most impressive feats ever completed by the U.S. Bureau of Reclamation.
You can check out a map of the feeder canal on a site called Mapcarta.com.
See if you can follow along here. It gets a little nerdy, and I'm definitely not an engineer. But I've done some reading and here's how I interpret it. Which, by the way, if someone who ACTUALLY knows how all this works wants to chime in, please do.
The Colorado River is a massive source of water for not just Coloradoans, but most of the western United States. The river actually starts just a bit west of Estes Park and Rocky Mountain National Park, from La Poudre Pass Lake, then flows to the southwest to provide water to the western states.
The Colorado-Big Thompson project - or C-BT - regulates and diverts water from the Colorado River, before all that awesome tasting Colorado water flows southwest to the other states, to the eastern parts of our state.
In a nutshell, as snow melts in the mountains each year, reservoirs capture the runoff. Then, a chain of canals and reservoirs (C-BT) brings the water to the east from the mountains, providing water for the Colorado plains, including Fort Collins, Loveland, Windsor, Greeley, etc.
As the system brings the water east, it hits Flatiron Reservoir, which is near Carter Lake in Loveland. From there, it enters the Charles Hansen Feeder Canal, which brings it north at an elevation of 5469 feet. It's along that journey that it hits that big old pipe over Highway 34 by the Dam Store.
The pipe is actually significantly lower than the canal, which is crazy. So basically the canal hits a drain, which sucks the water down, through the pipe, then back up to the other side of the canal where the water then flows north toward Fort Collins and ultimately into Horsetooth.
That whole area around where the pipe crosses 34, by the Dam Store and and all that fancy looking Dam equipment and power plant is a pretty interesting situation in itself. They can control where the water goes through that area and utilize it to generate hydroelectric power, then ultimately deciding to send the water north to Horsetooth, or dump it into the Big Thompson River to feed it more to the east.
Long story short: the water in that pipe essentially starts with the Colorado river and gets to Horsetooth Reservoir, via that pipe. So next time you pass under it, look up and give a nod to water you might ultimately drink someday.
Fun Facts About Horsetooth Reservoir
Here are just a few facts about everyone's favorite reservoir in Northern Colorado.
Colorado in the 1950s: Photos of Central City, Estes Park, & Grand Lake
See how Rocky Mountain National Park, Central City, and Estes Park looked back in the 1950s as we scroll through images from the "Vagabond" tv show produced by Periscope Film.