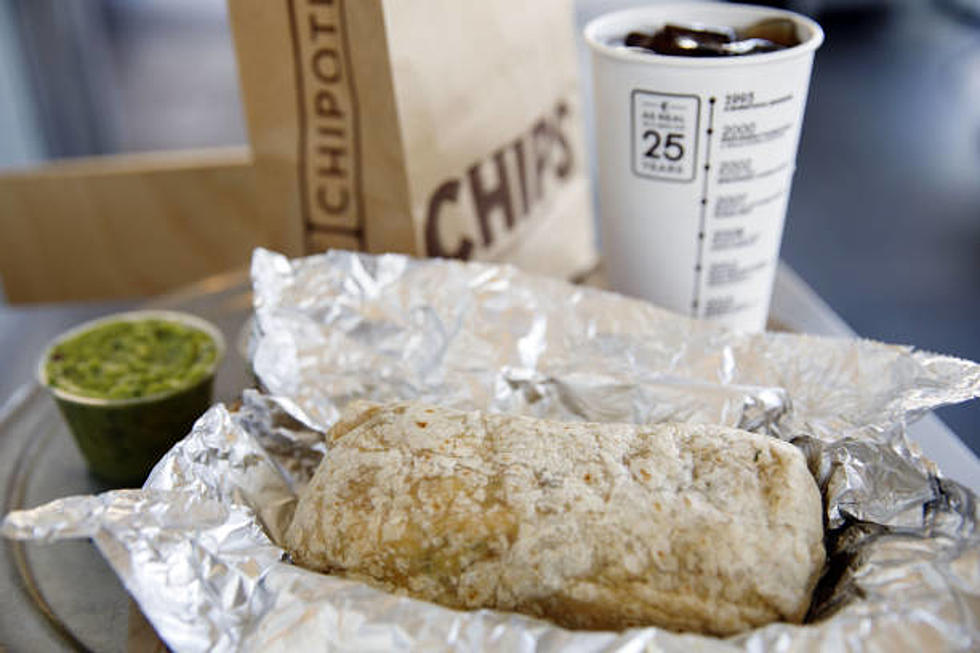 Colorado's Own Chipotle Honoring Heroes With $1M in Free Burritos
Bloomberg via Getty Images
Sure, sure... many people point out that Chipotle Mexican Grill moved their corporate office out of Denver to Newport Beach, CA back in 2018, but to me, they'll always be a Colorado success story when it comes to restaurants I love.
And here's another reason to love the people who - in the words of an ex-girlfriend of mine - make burritos as big as her head. They're giving away free food to healthcare heroes this month.
Chipotle announced that now through May 12, which just so happens to be "National Nurses Day," healthcare workers can sign up for a chance to win a 'Burrito Care Package' that would feed a group of 50 people!
"Given the demands placed on the healthcare community every day, we know finding time to bond, celebrate, or even eat as a team can be challenging," said Chris Brandt, Chief Marketing Officer of Chipotle. "The Burrito Care Packages offer a convenient opportunity for healthcare units to come together and share a delicious meal on us."
Now through May 12, healthcare professionals - including nurses, dentists, therapists, pharmacists and others - can enter the contest to win the Burrito Care Packages at this link on Chipotle's website.
They'll begin notifying winners on May 19 and will be awarding 2,000 healthcare workers with 50 free entrée codes for their team, equivalent to over $1 million in free Burrito Care Packages. Chipotle has actually given away more than $4 million in free food to healthcare workers the last several years.
Oh, and by the way, have you tried their new Chicken al Pastor yet? Holy smokes... if you haven't, you'll want to get on that ASAP. Delicious!
30 Of Northern Colorado's Top Rated Mexican Restaurants
One thing to know about Northern Colorado... there is no shortage of Mexican restaurants in our area - great ones too.
If you've got a craving for a seriously mouthwatering Mexican meal, consider checking out one of the 30 highest-rated Mexican restaurants in Fort Collins, Loveland, and Greeley - according to
TripAdvisor
- to best satisfy your craving:
These Restaurants Have The Best Burritos In Northern Colorado
Whether it's National Burrito Day (4/7) or just another ordinary day - any day's a good day for a burrito.
Want to know where to find the best burritos in Northern Colorado? Keep scrolling to find out.