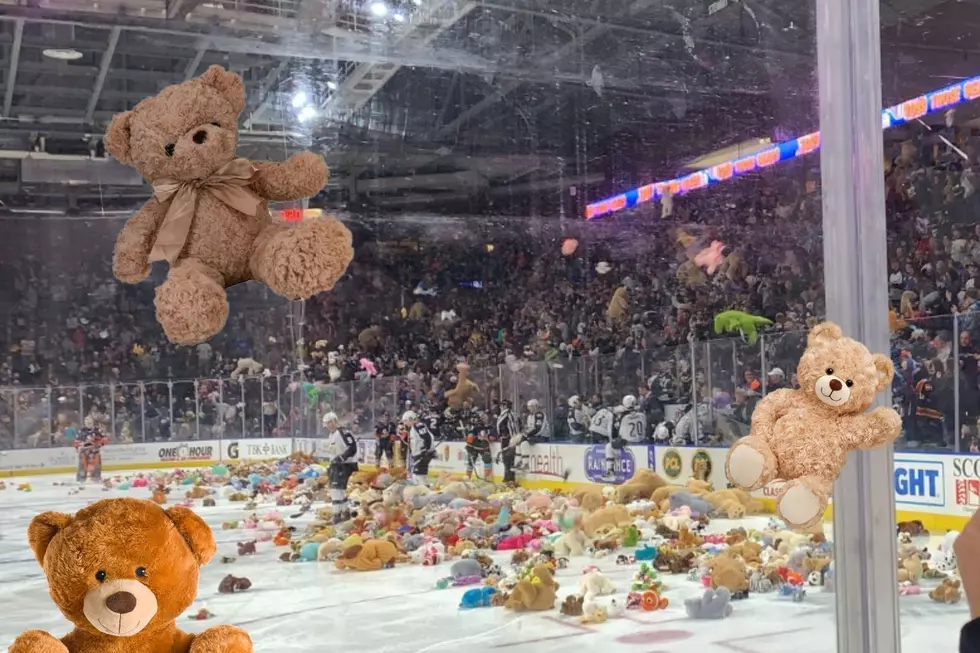 Colorado's Biggest Teddy Bear Toss Is This Saturday. What Is It?
BR TSM
In Colorado, it's the most wonderful time of the year. Not just because of the holidays, but because it means it's time for the biggest teddy bear toss in all of Colorado. Are you ready?
What Is A Teddy Bear Toss?
If you're a fan of hockey or sports in general, you've likely heard of this really fun tradition. If not, here's all you need to know about what's become one of Colorado's favorite holiday traditions.
The very first teddy bear toss happened back in 1993 so we're going on 30 years of this, mostly hockey, traditions. How does it work? Fans are encouraged to bring in teddy bears, or any stuffed animal to the teddy bear toss game. Once the home team scores their first goal, you let the bears fly onto the ice. Yes, besides a hat trick, this is the only other occasion where throwing things onto the ice won't land you in trouble.
The Colorado Eagles adopted the tradition in recent years and it's grown each and every year. Here's a throwback to when fan favorite Michael Joly got that first big goal of the night, sending those bears flying onto the ice.
Colorado Eagles Teddy Bear Toss Video
This year's Teddy Bear Toss is this Saturday, December 10th, at the Budweiser Events Center in Loveland. Tickets are sold out as of now but check the day of as sometimes more seats become available the day of. If you've already gotten tickets, get those bears and other stuffed animals ready to throw out onto the ice. Bears will then be collected by local Townsquare Media NoCo staff and distributed to youth around Northern Colorado thanks to our friends at Realities for Children. Get more on the Colorado Eagles teddy bear toss HERE.
Did You Know Colorado Has A Movie Car Museum? It's Pretty Rad
This hidden Colorado gem is one you've got to see. Rodz & Bodz Movie Car Museum is a real treat!
The Top 25 Highest Paying Jobs in Colorado for 2022
Working for a living is a pat of being an adult. Some people are working to just 'make ends meet,' others are taking in some large salaries, and probably not so worried about that.