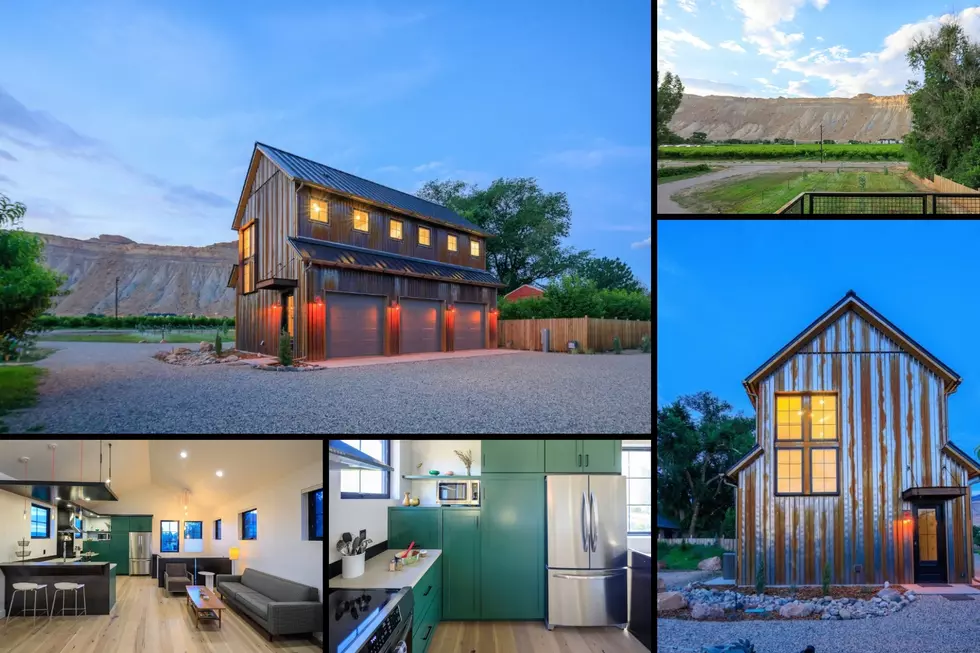 Palisade Colorado Carriage House Rental Just Steps Away from the Best Wineries
Airbnb.com
Did you ever notice how some Colorado rentals at Airbnb look far different on the inside than you may have expected? I mean this in a good way. Today is one of those days.
Love is in the air, and we're looking at a rental that has room for two guests. This Palisade Carriage House Airbnb could be just what you need if you want an authentic wine-country experience within walking distance of downtown.
How Many People Live in Palisade, Colorado?
Palisade is home to just about 2500 residents. The community will host their 55th annual Peach Festival at Riverbend Park in mid-August of 2023. The city is also home to events like the Palisade Bluegrass Festival, The Colorado Mountain Wine Festival, and the Colorado Lavander Festival.
When is the Best Time to Visit Palisade, Colorado?
Honestly, it's hard to select a bad time to visit Palisade, Colorado. If you go too early, you'll miss the fall festivals. If you do late summer, then we hope you like high desert heat. If you want to explore Mesa county and the features around Palisade, then May and June may be the most comfortable months.
Mesa County is the Land of Creative Rentals
After we check out the carriage house we have even more to show you. Did you know you can stay in Clifton, Colorado at an Airbnb located inside an animal sanctuary? Got a group of friends coming to town? Check out the sweet Clifton barn rental on the Fruit and Wine Byway. Scroll on to see it all.
Palisade Carriage House Rental Just Steps Away from the Best Wineries
Imagine watching the sunset over the peach orchards of Palisade, Colorado from a private balcony. You can. This Airbnb puts you within walking distance of the Colorado wineries everyone wants in Mesa County. Scroll on to see a great place to escape for a couple's weekend on the western slope.
LOOK: Cute and Cuddly Clifton Airbnb is Inside a Colorado Animal Sanctuary
Play alongside the alpaca, goats, pigs, emu, and the chickens at this Clifton, Colorado Airbnb. You'll stay in the guest house on this cute little boutique animal sanctuary located on the Colorado River in Clifton.
STAY HERE: Cute Clifton Barn Airbnb Sits Next to Colorado's Fruit and WIne Byway
This cute Clifton barn house Airbnb rental sits 4.1 miles from the heart of downtown Palisade, Colorado. It comes with a great view of Mount Garfield and the Grand Mesa. This is a great spot for visiting wine country or enjoying the amazing views here in Mesa County. Scroll on to see inside.