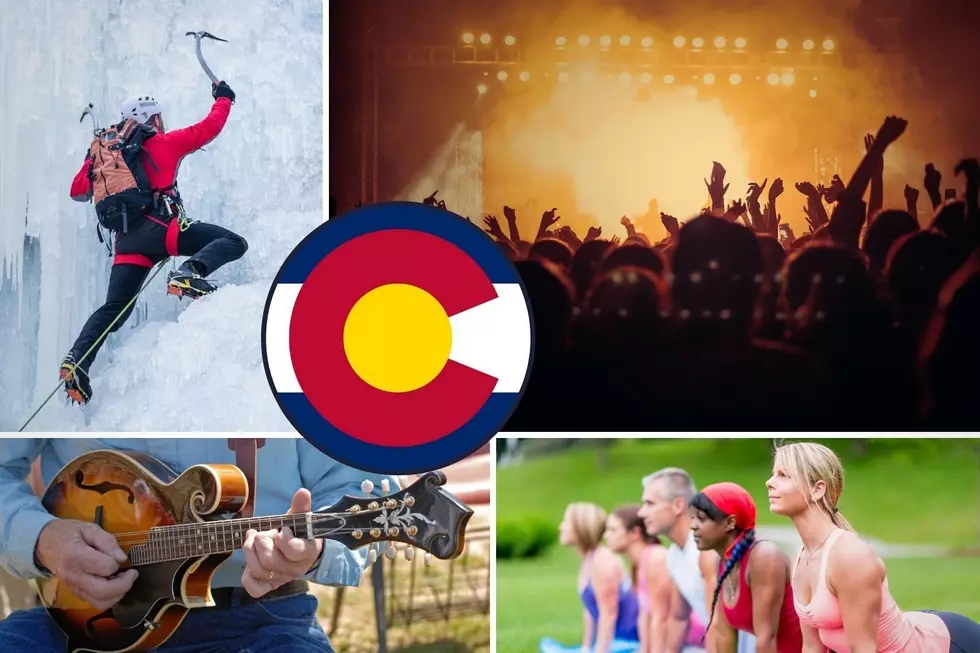 The 12 Best Outdoor Festivals In Colorado For 2023
Canva
It's a new year, and that means 12 months of amazing outdoor festivals in Colorado. Here's a quick look at 12 of the best coming to the Centennial State in 2023.
From Country music to bluegrass, ice sculpting, winter sports, and even yoga and mushroom festivals, Colorado has it covered. You're sure to find an outdoor festival in Colorado that will suit your style.
Ice Sculpting, Winter Sports, and Mushroom Festivals
Check out the gallery below, and you'll find Colorado has the bases covered. Everyone in the world knows Colorado hosts some of the best winter sports festivals in the world.
Are you aware, though, of the International Snow Sculpture Championships in Breckenridge? This festival, running ten days, is the grandaddy of them all when it comes to snow sculptures. No power tools to be had. It's all done by hand.
This is Colorado, so from time to time our events have a certain, shall we say, "hippie vibe" about them. Check out the Hanuman Festival coming to rural Colorado in July 2023. Yoga, music, the entire outfit.
Music Festival O' Plenty
Country Jam Colorado and the Telluride Bluegrass Festival are back, and in a big way. Top-name headliners are on deck to perform for you in 2023.
In the post-COVID world, some smaller festivals have been placed on standby, so keep your eyes and ears open to find out when some of these localized events are scheduled to take place.
Something For Everyone
When was the last time you attended a film festival? How about a film festival exclusively for women? That's available for you in 2023.
If you love beer, especially craft beer, and crave the food pairings that come with it, keep your eyes on the state of Colorado. You have a doozy of a festival coming up in 2023.
Later in 2023, you can fire up your Viking hat (which everyone owns, right?) and worship the Norse god of snow.
Not Entirely 'Outdoor'
You'll notice some of the events on this list, perhaps most, involve multiple venues. Some festivals include outdoor events, while portions of the festivities are held in local theatres.
A Sample Of What's To Come In 2023
The list below barely puts a dent in the outdoor festivals scheduled for Colorado in 2023. These are simply some of the most highly-praised festivals in the state. Inspiration for this list comes courtesy of Outside.
The 12 Best Outdoor Festivals In Colorado For 2023
Are you looking to take in a concert? Perhaps an entire festival. Are you ready for one of Colorado's awesome Bluegrass festivals? While you're at it, how about an outdoor film festival? From skiing, ice climbing, music, to beer, Colorado hosts some of the best outdoor festivals in the nation. Here's a look at some of the best outdoor festivals coming to the Centennial State in 2023.
15 Best Small Towns in Colorado to Visit
Whether they might be
ski towns
,
old mining towns
, or towns known for their hot springs,
Colorado
has no shortage of great small towns. I've lived in four very different parts of Colorado in my 34 years on this planet, (Eagle, Pueblo,
Fort Collins
, and
Grand Junction
,) and have traveled all over the state.
According to The Crazy Tourist, these are the 15 best small towns to visit in Colorado.
Colorado's Amazing Mountain Passes Ranked By Elevation
Maintain a good grip on the steering wheel because we traveling to the top of the Rockies via Colorado's extreme mountain passes. Scroll on to learn more about mountain passes above 10,000 feet throughout the state.