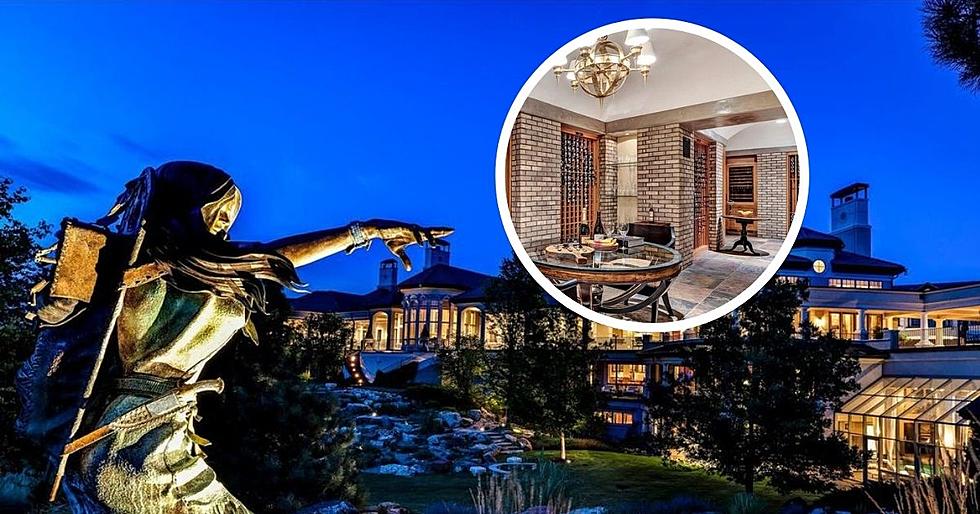 Colorado Mansion With Gigantic Wine Cellar Sold For $12.5 Million
Elizabeth Hogan with Douglas Elliman
A Colorado mansion has sold this week for $12.5 million in Douglas County. The home has been on the market for 1,230 days before selling on December 13 according to Realtor.
The home located at 10687 Evans Ridge Raod boasts a total of eleven bedrooms, twenty bathrooms, over a sprawling 45,212 square feet of living space on a 35-acre lot in Parker, Colorado.
What was included in the $12.5 million selling price of this Parker mansion?
Not only did the buyer of this Parker mansion get a massive home, but they also got nearly everything inside of the mansion. This includes the furnishings, collection of art, and all of the wine in the world-class wine cellar inside the home.
A car collector's dream garage.
Some homes have larger-than-life garages, this mansion is one of them. The home's garage is capable of housing a total of 29 cars. Take a trip above the garage and you will find two apartments.
This Parker, Colorado Mansion Just Sold for $12.5 Millon
This mansion was pretty much all-inclusive. That means all of the wine in the massive wine celler came with the house too.
If the 29 car garage and the all-inclusive wine cellar aren't the icing on top of the cake, you are going to want to hear about the rest of the home. Getting from one level of this mansion to another is a breeze with the home's elevators. An indoor pool and hot tub make you feel like you are at a five-star resort with a swim-up bar area in the pool and cabana seating. A massive lower-level bar is perfect for entertaining. Love bowling? You won't have to venture from home with the two full-size bowling lanes located next to the curtain draped performance stage.
This Parker mansion is truly one of a kind. Whoever bought this home should make many many years of great memories with their family in it.
Source: Realtor
This $3.5 Million Colorado Mountain home has a Helipad
This Colorado mountain home has a place to park your helicopter.
This $45 Million Vail Home Has a 75 Foot Glass Bottom Pool
This Vail home has a 75-foot pool that is suspended and has a glass bottom.
Look Inside This Stunning $4.9 Million Downtown Denver Penthouse
Take a look at this New York-style penthouse located in the heart of the Mile High City.