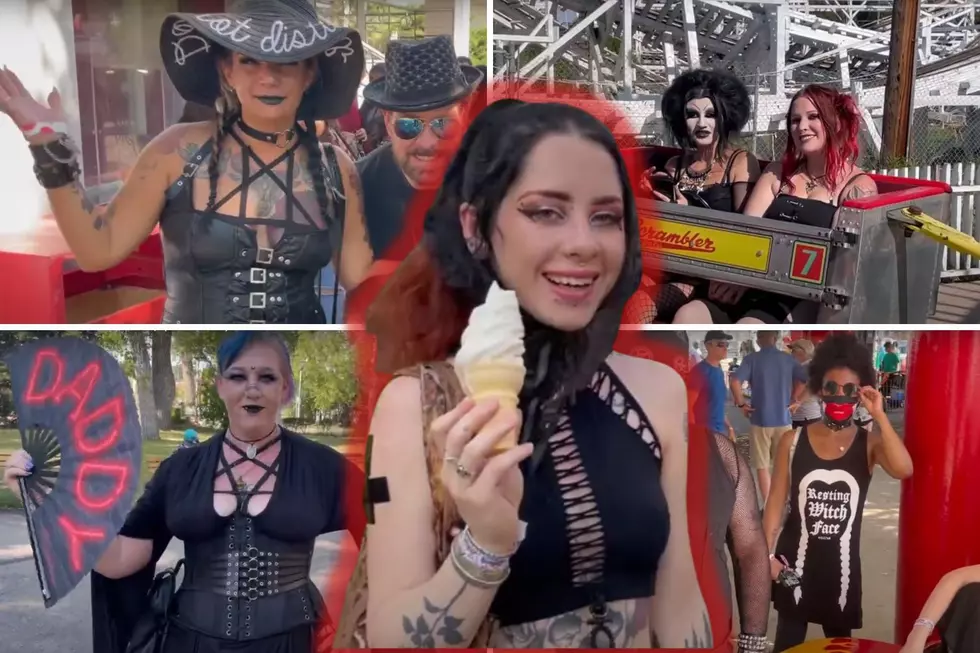 Colorado Amusement Park Goes Goth for a Day
Julian Black via YouTube
An amusement park in Colorado looks a tiny bit different one day each year with its annual Gothic Takeover.
Colorado's Lakeside Amusement Park
The event takes place each summer at Colorado's Lakeside Amusement Park located at 4601 Sheridan Boulevard, Denver, CO 80212. While the amusement park is not as big or well-known as its counterpart of Elitch Gardens, Lakeside is definitely well-known to the locals and fun for the whole family.
Now, on any other day, it would probably be wise to wear something other than black when you're preparing to spend the entire day in the summer heat and sun, but that's not what the Gothic Takeover is all about.
Colorado's Lakeside Amusement Park's Gothic Takeover
Lakeside Amusement Park's Gothic Takeover is a fun, annual tradition that began roughly six years ago and has been going strong ever since. This year's festivities took place on May 21st, 2022 and it doesn't appear that the fun will be slowing down any time soon.
What Do You Find at Lakeside's Gothic Takeover in Colorado?
Lakeside Amusement Park's Gothic Takeover looks kind of like a heavy metal festival, but with games and rides.
Attendees go all out with awesome outfits that include a lot of black, as well as makeup, different colored hair, big boots, fishnets, jewelry, and a lot of tattoos and piercings.
In addition, you'll see a lot of band t-shirts from artists like The Misfits, Nine Inch Nails, and Rob Zombie.
The Gothic Takeover at Lakeside Amusement Park is a really fun event for people who enjoy the style including couples, families, groups of friends, and even kids.
Take a look at some of the great outfits and styles from last year's Gothic Takeover at Lakeside Amusement Park:
Colorado Amusement Park Goes Goth for a Day
Lakeside Amusement Park in Denver, Colorado celebrates its annual Gothic Takeover each summer.
Remembering Now Abandoned Colorado Amusement Park
WARNING: Under no circumstances should you enter this property. By doing so you risk bodily harm and/or prosecution for trespassing on private property.
Heritage Square was an amusement park in Golden, Colorado that was open from 1959 to 2018.
PHOTOS: The Disneyland of RV Parks is in Colorado
Take a virtual tour of every kid's favorite RV park – Jellystone Park in Larkspur, Colorado.