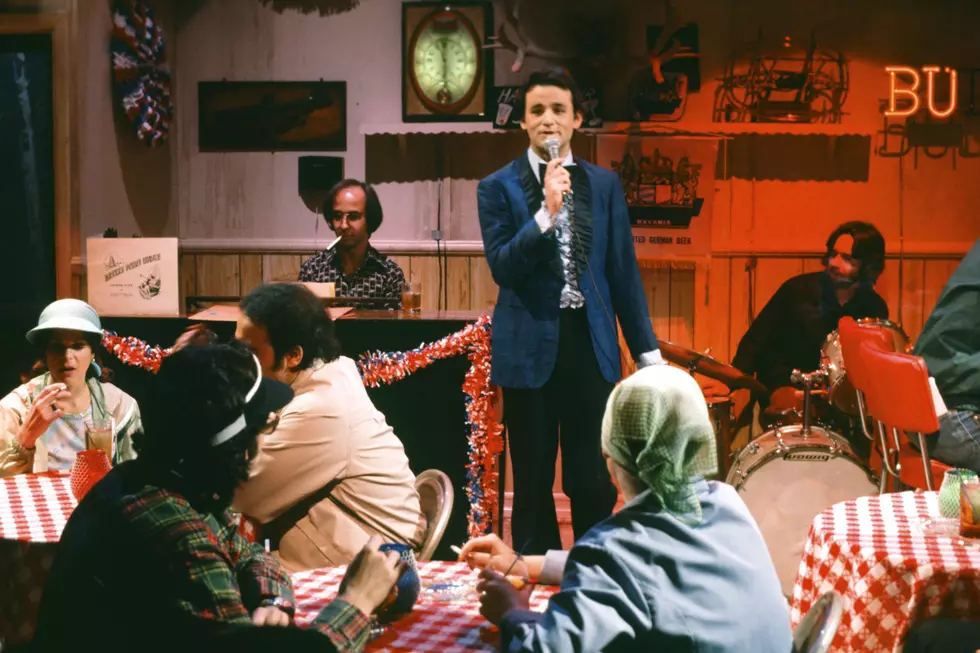 45 Years Ago: Bill Murray Debuts 'SNL"s Nick the Lounge Singer
NBC, Getty Images
Bill Murray has, in the decades since his time on Saturday Night Live, become one of the most accomplished and effortlessly watchable actors anywhere. Whether in films or person, Murray combines knowing confidence and a loose, improvisational flow to imbue his performances with a bracing edge of unpredictability that, yet, always seems to land just where he's aimed. But that wasn't always the case, as Murray, Lorne Michaels and viewers of the second season of SNL can attest.
Brought in to soft-replace the departed Chevy Chase partway through that 1976-77 season, Murray finally took his place alongside former National Lampoon Radio Hour peers John Belushi and Gilda Radner. Murray had been part of the original auditions for the first Not Ready for Prime Time Players but had been passed over, eventually winding up as a cast member on an improbable sketch comedy-variety show hosted by sports announcer Howard Cosell called, to Michaels' chagrin, Saturday Night Live With Howard Cosell. Cosell's show was canned after 18 episodes, giving what was then known as NBC's Saturday Night its preferred name back, and Murray another shot.
The 27-year-old Murray started strong in his first episode, a mid-season outing hosted by consumer advocate and eventual presidential candidate Ralph Nader. Playing a manic director hired to choreograph the televised execution of a death row inmate, Murray's gift for flamboyantly skewering showbiz types was a hit, hinting at his eventual rise to SNL superstardom.
But it was a rough time after that. Murray found it difficult to channel his ever-volatile comic energy into the live-TV format, blowing lines frequently enough that there were rumors he was on his way out. Regardless of whether Michaels was ever seriously planning to fire Murray, the actor's on-air missteps started the SNL chain reaction of writers being reluctant to put him in their sketches, often relegating him to what Murray termed "second cop" roles. Michaels, sensing his new guy's trajectory, teamed with Murray to write a direct-appeal sketch, fittingly titled "New Guy," in which Murray, as himself, humorously asked the audience to bear with him as he learns how to be funny at the right time.
Watch Nick the Lounge Singer Sing the 'Star Wars' Theme on 'SNL'
It's a funny bit, part of SNL's long history of incorporating backstage life into on-air comedy. But Murray still floundered. An early sketch saw him blowing a line that undermined the entire premise of a sketch. (As a patient able to say only five words, Murray rambled offtrack and spoke seven, leaving the young performer covered in awkward flop sweat.) Saturday Night Live has an equally long history of letting undeniably talented comedians wither away for various reasons, and it was looking like Murray was going to fade into the background.
Luckily for Murray — and us — Murray realized that what he needed was the spotlight. Preferably one illuminating a run-down show business venue, where one of Murray's signature characters could shine, no matter what. On the April 16, 1977, show hosted by Elliott Gould, Murray debuted a character he'd been doing since his days at Chicago's Second City, an indefatigable lounge singer who never lets the reality of his dingy surroundings get him down.
Here called "Nick Summers," in deference to his time crooning to the bored and mosquito-bitten guests at a Minnesota fishing lodge, Murray's singer and emcee set the template for a character Murray would go on to perform on SNL nine times as a cast member. (Plus two more when Murray came back to host the show and riotous returns for SNL's 25th- and 40th-anniversary specials.)
Nick (whose last name changes to fit each of his many and varied gigs) was a Murray staple, born from his love-hate relationship with a particular kind of showbiz smarminess and sleaze. At Second City, Bill, along with brother Brian and eventual SNL bandleader Paul Shaffer, used to hold viewing parties to watch Sammy and Company, a lavishly lame comedy-variety show fronted by Sammy Davis Jr., in all his fawning, faux-sincere glory.
Nick partook of that same style of unctuous celebrity schmoozing, even though he's always found playing rattletrap dives and increasingly out-of-the-way venues. (Nick, as Nick Borealis, winds up doing his shtick at an Arctic research base at one point.) Here, he hands out a glory spot for the big celeb and personal friend in the audience — Gould's Skeeter, the resort's water-skiing instructor. Nick invariably also accidentally uncovers an adulterous couple in his crowd work (here, it's Larraine Newman's wife cheating with Skeeter while her husband recuperates from a broken leg — that he got waterskiing), and makes room for Dan Aykroyd's unimpressed and garrulous resort functionary, Jimmy Joe Red Sky, to tell everyone about some unsightly resort minutia. Here, it's how to catch fish like the enormous, dripping one he hoists up to Nick's hot spotlight, while Nick, in tone-deaf enthusiasm, explains, "I tell you something, he's an Indian, and they don't lie. I love that."
Watch Bill Murray Perform as Nick the Lounge Singer for the First Time
Murray owns not just Nick's stage here, but SNL's, Nick's invulnerable confidence perhaps lending some to the struggling Murray's performance. Nick was part of Murray's initial audition for the show, crooning a number from The Pajama Game with piano-bar gusto. So it makes sense that one of Murray's breakthrough moments went back to Nick's bottomless well of smarmy chutzpah for a much-needed jolt of energy.
It still took some time for Murray to truly win over the fickle Saturday Night Live audience. He routinely received abusive letters from disgruntled Chevy Chase fans who assumed, incorrectly, that Murray's hiring played a part in Chase's departure. It was in the final episode of Season Two that Murray truly seized the reins, though.
He wasn't Nick that time, but a defiantly naked (from the waist up) husband named Richard Herkiman, whose morning shower routine involves some Nick-like patter and songs to an unseen audience, a microphone-shaped bar of soap his only prop. Revealing to his beleaguered wife (played by Radner) that he knows all about her ongoing affair with host Buck Henry (who gleefully hops into the shower fully clothed), Richard never lets up with the practiced stage banter that serves as the smarting fellow's morning jolt of confidence. For the young Bill Murray on Saturday Night Live, Nick's unflappable ability to fake it until you make it was exactly the right vehicle.
Rock's 60 Biggest 'Saturday Night Live' Performances