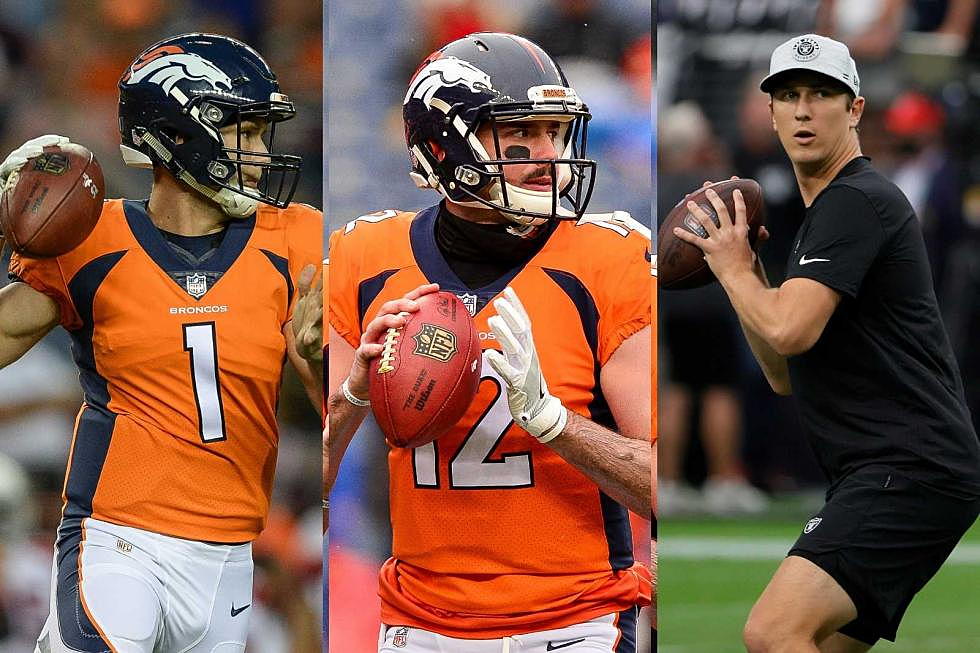 3 Former Broncos QBs Now Play For Teams in the New USFL
Getty Images, Canva.com
The USFL has returned to the field, though some will say it's not same USLF from back in the mid-1980's. Fans of the Denver Broncos will see these (mostly)familiar names.
Just because a player gets cut from an NFL team does not necessarily mean that their professional football career is over. There are more than a few options for players with nearly 30 leagues out there. Looking at that list, I think a road trip to see some Rocky Mountain Football League play in Montana.
The latest non-NFL professional football league, the 'new' USFL, has eight teams. 20 of those teams have players that used to be Denver Broncos; three of them were quarterbacks, one played for the University of Northern Colorado.
CASE COOKUS
Cookus spent a whole three days with the team in May of 2021. A graduate of Northern Arizona, he's spent most of his career in the Canadian Football League, but now plays for the Philadelphia Stars.
KYLE SLOTER
A graduate of UNC, Sloter actually played, if only in preseason. He was an undrafted free agent in May of 2017, and had decent preseason numbers: 31 of 43 passes for 413 yards with three touchdowns and no interceptions with a passer rating of 125. However he was waived by September of 2017, and bounced around practice squads for the Vikings, Cardinals, Lions, Bears, and the Raiders. He now plays for the New Orleans Breakers.
PAXTON LYNCH
Lynch received a near $5.1 million signing bonus when the Broncos drafted him in 2016. He had an OK rookie season, backing up Trevor Siemian, but an injury during preseason of his second season sidelined him for most of that season. His third Broncos season had him backing up Case Keenum, until Chad Kelly got that job; then he and Denver parted ways.  No tears were lost in that departure. Paxton bounced to the Seahawks, the Steelers and then into the Canadian Football League in 2021, as a third string QB. He now on the roster for the Michigan Panthers. 
MORE - How Did the Broncos Get There Name?
Stacker
delved into the story behind every NFL football team name. Overall team records, also included, are reflective of NFL regular-season games. There are some football teams with well-known nicknames—the Jets, for instance, are often referred to as Gang Green—but we also divulge how some teams' official names are sparingly used (the Jets' neighbors, the Giants, are actually known as the New York Football Giants). Sometimes a team name can tell you a lot about local history: The Vikings of Minnesota draw upon the area's strong ties to Scandinavia, and the Tampa Bay Buccaneers are dripping in local legend related to Florida's pirate past.
Let's kick off the countdown with the folks who earned their nickname by buying boxes of used team jerseys.
Scroll Through a Pictorial History of the Denver Broncos
The Denver Broncos have one of the most successful franchises in the NFL. Eight Super Bowl appearances, 15 division titles, 21 playoff appearances, and three championships. But, as every fan knows, the road is never easy and with every victory, there are plenty of heartaches and disappointments. All the memorable moments and players are too many to mention here, but, take a look back at some of the highlights and heartaches of the past 60+ years.