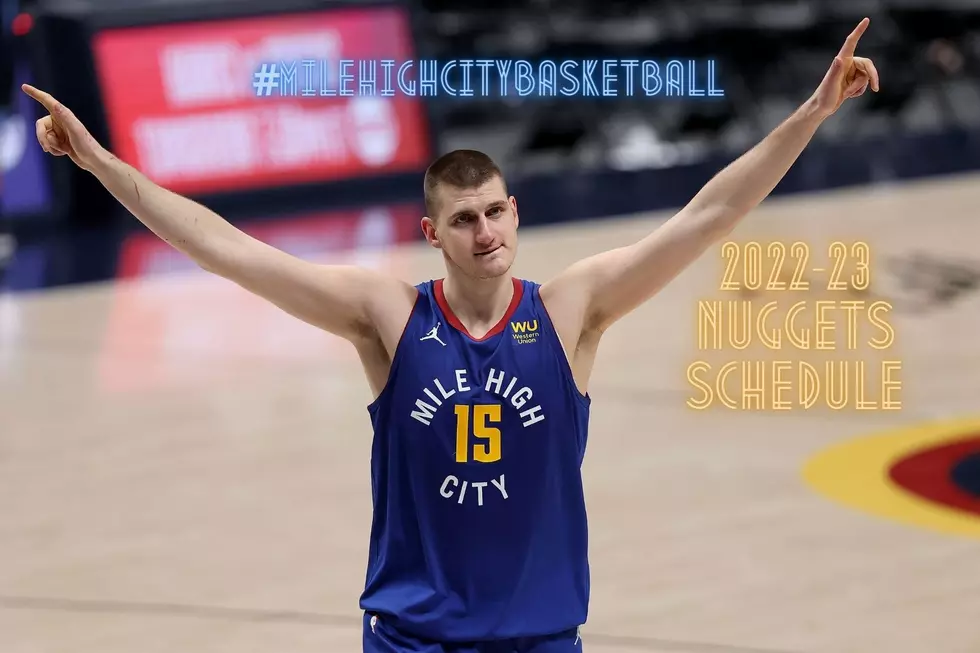 The Denver Nuggets 2022-23 Schedule Is Here And It's a Good One
Getty / Canva
Colorado sports fans are pumped up for the next NBA season for our Denver Nuggets. We're one step closer to the new season because the 2022-23 schedule is finally here.
Denver Nuggets 2022-23 Schedule
Just three years ago in the 2020 season, the Denver Nuggets made it all the way to the Western Conference Finals. They were sadly eliminated by LeBron and the hated Los Angeles Lakers. The very next season, after so much promise following the previous season, one of the team's superstars, Jamal Murray, tore his ACL in a regular season game against the Golden State Warriors and missed the playoffs. Without Jamal, the Nuggets were eliminated in the 2nd round of the NBA Playoffs after being swept in 4 games by the Phoenix Suns. Remember that idiot "Suns in four" guy?
Related: Denver Nuggets' Nokila Jokic Telling Jokes... Full Schedule Below
We all expected Jamal to make his return before the 2021-22 Playoffs but he ended up staying on the sideline, along with injured Michael Porter Jr, and the Nuggets were eliminated in the first round in just five games by the Steph Curry Golden State Warriors. Our two-time MVP, Nikola Jokic, did all he could, but just couldn't do it all himself. With Jamal and MPJ both expected to make their returns this season, Nuggets fans are stoked at the potential of this healthy Denver team, full of amazing young talent.
The Denver Nuggets announced the full 2022-23 regular season schedule today and we can't wait for October! The boys will start on the road on Wednesday, October 19th, against divisional rival, Utah Jazz. Our home opener will be at Ball Arena on Saturday, October 22nd, as we welcome the Oklahoma City Thunder to the Mile High City. We'll also have a home game on Christmas this year against the Phoenix Suns. You can see the full schedule HERE. Let's go Nuggets!
See Inside Broncos QB Russell Wilson's $28 Million Dollar Mansion
Former Broncos Player Orlando Franklin Selling Cherry Hills Mansion for $9.9 Million
The former Denver Broncos player is selling a stunning Cherry Hills mansion for $9.95 million.
10 Things To Know Before You Go To A Denver Nuggets Basketball Game
You're going to a Denver Nuggets game, and you're going to have a fantastic time. Knowing what to expect will help ensure the experience of a lifetime.