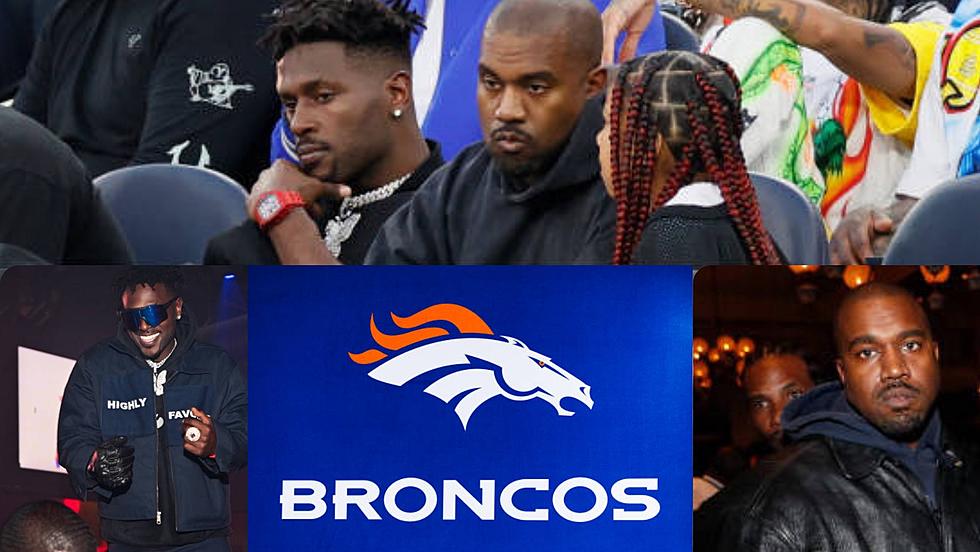 Kanye West, Antonio Brown Could Very Well Be Buying The Denver Broncos
Getty Images/Canva
Could Antonio Brown and Kanye West actually be buying the Denver Broncos?
Apparently, the duo is "extremely serious" about their efforts to buy the NFL team, which would reportedly cost an estimated $4 billion to purchase.
RELATED: Could Kanye West Buy The Denver Broncos? Shannon Sharpe Approves
The pair have seemingly gotten so close over the last few months, Kanye even named Brown the president of one of his biggest ventures, Donda Sports.
What Is Donda Sports?
As per reports via SI, Donda Sports, founded by Kanye West, aims to encompass athlete representation and serve as a full-service sports brand including apparel, sneakers, and much more.
As one of Antonio Brown's first actions in his newly appointed executive role with Donda Sports, he voiced his interest in wanting to purchase the Denver Broncos, which he shared back in February.
In the video below, which was captured and distributed by TMZ on Tuesday, March 8, Brown tells TMZ sports that they're working hard to get a real deal done with the Broncos.
https://www.youtube.com/watch?v=p-CGBj8OXiY
"Tell Roger [Goodell] call me, we working on it," Brown said, leading the ones with flashy cameras and recorders to ask if he and Mr. West are serious about the venture.
"We are extremely serious about it. We working towards it to get it done."
Do you want to see Kanye and West and Antonio Brown buy the Denver Broncos? Should they be allowed to buy the Denver Broncos? Sound off with your thoughts on our free app.
Denver Broncos Forgotten Players
TACKLE THESE: Check Out the Best Uniforms In Each NFL Team's History