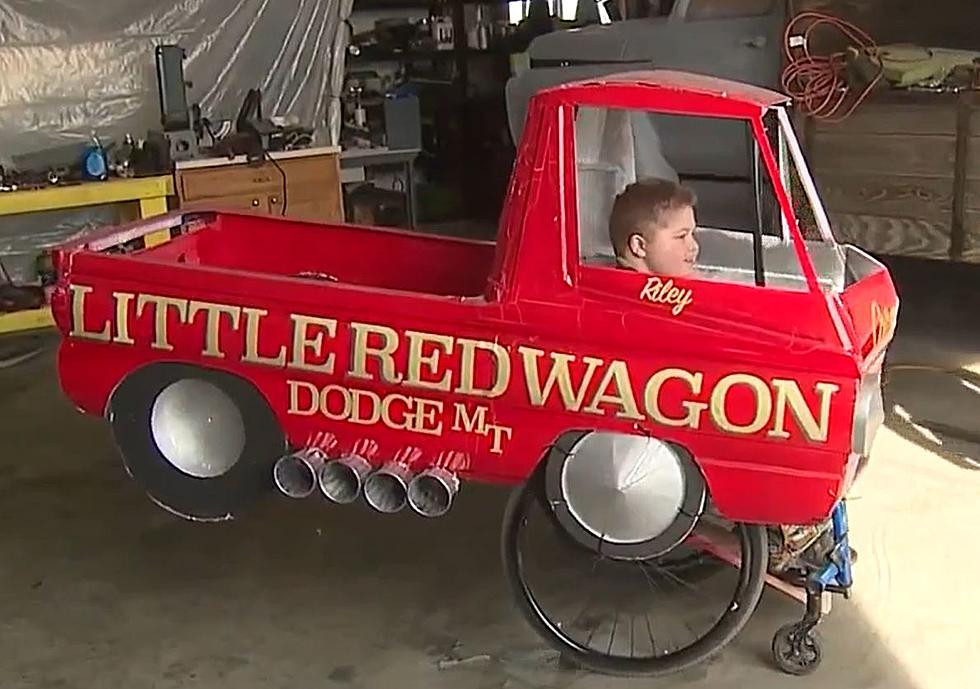 Colorado Teen With DMD Helps Make Costumes For Other Kids In Wheelchairs
Denver 7 YouTube
A 14-year-old boy with muscular dystrophy in Fort Lupton, Colorado, has begun the process of designing custom costumes for other kids in wheelchairs.
Colorado Teen With DMD Helps Make Costumes For Kids In Wheelchairs
As you can imagine, being confined to a wheelchair as a child can make many "normal" activities far more challenging. One is getting to dress up in costumes just for fun or even on Halloween. Riley Wise, a 14-year-old in Fort Lupton, Colorado, helped his father design and build a custom "Red Wagon" classic truck costume this past Halloween to fit over his wheelchair. He's been in a wheelchair since the age of ten after being diagnosed with Duchenne muscular dystrophy, or DMD. After seeing how much joy their creation brought to so many others in similar situations, Denver 7 reports that Riley and his family created "Riley's Rides," which is a non-profit whose mission is to help build custom Halloween costumes for kids who have also been battling with muscular dystrophy or other special needs that require being in a wheelchair full time.
Riley loves to work with his hands, so his dad, who is a professional at fabrication, taught Riley how to master this craft, and together they're going to be working on some really cool projects for other kids just like him. Being in a wheelchair isn't something Riley had a choice in, but how he's handled it and turned it into an opportunity to help other kids who are going through the same challenges as he, is extremely heartwarming. Riley's Rides does have a go-fund-me set up to get the money to be able to fund these special projects as they start gearing up for Halloween this fall. See Riley's story in the video below.
Riley has found his passion to do good in the world at such a young age, it's incredibly inspiring.
Take a Trip Down Memory Lane at these Colorado Eateries
Grab a bite of nostalgia at these Colorado restaurants.
Ultimate Colorado Winter Survival Guide
This is Why Buc-ee's New Store in Colorado is Such a Big Deal
Buc-ee's will be openining a
new location
in Johnstown, Colorado, sometime in 2024. Here are a number of reasons why people are loving this news.